Apart Together
By Erica Rascón on Nov 10, 2020 in People
Remote work environments have their fair share of advantages and disadvantages. Seven months into telecommuting, Yardi employees across the U.S. weigh in.
March madness, IT edition
In mid-March, Yardi's IT department miraculously (read: after much hard work and dedication) managed to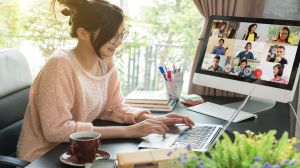 transition more than 30 global offices into a remote work environment in about two weeks. It was no easy feat.
The diligence of the IT department and the patience of fellow employees made for a relatively smooth transition. Virtual town hall meetings kept employees up-to-date on the latest developments from the corporate headquarters. Productivity remained steady as team members learned to navigate workflows from home.
Gradually, a new normal set in: video conferencing replaced conference rooms and chats replaced quick conversations over cubicle walls. Social committees reconvened team-building activities to maintain camaraderie and engagement. Pets became coworkers who made (sometimes) unsolicited appearances on calls.
Yardi team members around the world began to witness firsthand the joys and challenges of their remote work environments.
Different, but still efficient

Some characteristics of office culture simply cannot be replicated when working from home. Chatting with coworkers in the lounge, grabbing lunch together and team functions are just a few of the office features that employees missed.
"Working at home can be a bit stagnant," admits Luis Estrada, a marketing writer in Miami. He conducted his interview for this post via Microsoft Teams chat. "My dining room is my new office. It's routine, same old stuff."
"I miss my coworkers and the close collaboration in the office," says Evan Hearn, energy management analyst in Atlanta.
Taylor Leandro, HR generalist in Santa Barbara echoes the sentiment. "I mostly miss the daily interactions with my teammates and fellow colleagues. I also miss the ability to walk over to someone and ask a question if I have one."
Employees also missed the efficiency of their offices. With most people working from home for the first time, few had focus-friendly and ergonomic workspaces. In response, Yardi issued a generous stipend to help employees customize their home offices. Employees invested in office gear that made remote work easier on their bodies and minds. Ergonomic keyboards, new modems for better connectivity, standup desks and high customizable office chairs are among the top investments.
"I am so grateful to work for a company like Yardi that truly cares about its employees," says Rochelle Throckmorton, marketing campaigns specialist in Oxnard. "It definitely comes from the top, starting with Mr. Yardi, and making its way down leadership. I was able to make my workspace comfortable with my dual monitors, headset and additional supplies. It really made a huge difference. Now I have an official workspace at home."
It's safe to say that everyone is experiencing a shorter commute. Employees in major cities regained hours to their lives that were previously spent in bumper-to-bumper traffic. Money normally spent on gas and car maintenance has stayed in bank accounts for better use.
Employees who used public transportation are also seeing the benefits of remote work. Estrada adds, "I used public transportation to get to the office. I was hesitant to do that during the pandemic, so working from home made me feel much more comfortable and safer. It's also extremely satisfying to know that when you're done working for the day, you have more time for personal activities without having to commute home."
Many employees have expressed the joy of spending more time with their loved ones. Partners, kids and pets top the list of reasons why employees enjoy working from home. A cat nestled in a lap makes a busy day feel less stressful.
"As one part of a two-working parent household with two young children, it's hard to overstate my gratitude to be part of a company that has prioritized partnering our families' health with our careers," says Sean Geraghty, a manager in marketing from Santa Barbara.  "We are incredibly thankful for the support during a remarkable year, from the global town hall meetings to the wellness programs to providing a home-office budget. All of it has helped. Thank you!"
For the members of human resources in Yardi's Arizona office, the benefits of working from home prompted gratitude and creativity.
"Many of us know people affected by COVID physically, mentally or financially," says Sally Parks, vice president, human resources at Yardi. "We are grateful for all that Yardi has done for its employees and wanted to pass on our appreciation."