Summer Programs
By Erica Rascón on Jul 1, 2015 in News
Once school is out, everyone knows that kids can only entertain themselves for t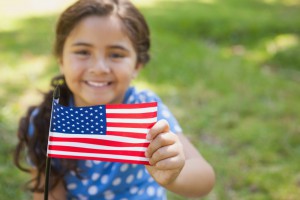 he first few weeks at best. Soon enough, they become bored and antsy. When your community is filled with bored kids, it's just a matter of time before something interesting happens. Summer camps for military families solve many problems at once.
From painting to science, from coding to gymnastics, there is a camp under the sun for every kid in your community—and there is still time to nudge kids (and their parents) in that direction. In your upcoming blog post or newsletter, remind parents that summer camps are a terrific way to keep children active and entertained while preventing the infamous summer slide. Camps can also be a lifeline for children in military families who move often and may be getting acclimated to a new neighborhood and new school district.
Since financing summer camps can be tough for many families, we've found a few resources to jump-start your search on affordable summer camps for military families. Many are free or offer discounted attendance to service members' kids. These have start dates well into July and beyond, so it's not too late to get families involved. Camps have multiple locations, so be sure to link to the city and event closest to your property.
Military kids ages 8-15 throughout the nation can enjoy the "week of a lifetime" through Camp Corral. Attendees will join the ranks of nearly 7,000 kids in 23 camps across 19 states who have enjoyed the adventures of the camp so far. Children can explore outdoor activities such as swimming, canoeing, horseback riding and ropes course challenges. When they prefer the cool of the indoors, there are arts, crafts, archery and more. Although any child from a military family is eligible, registration priority is given to children of wounded, disabled or fallen military service members. Camp is free!
ASYMCA The Armed Services YMCA offers camps at 31 locations throughout the nation. Parents can find their nearest installation on the "Locations" menu to select from an array of camp opportunities for youth of all ages. Some locations also offer family camps.
American Wanderer Summer Camp This is a truly unique experience for military housing in Arizona, Colorado, Idaho, Montana, New Mexico, South Dakota, Utah and Wyoming. American Wanderers is crafted for youth ages 11-17. The 2-week camp welcomes participants to explore the National Parks of the area. No two days are the same! Hiking, camping, rock climbing, kayaking, and unforgettable photo ops are just around the corner. This camp is perfect for the adventure seekers in your community. (You know, the ones skating down the handrails and bannisters after midnight) Children of active duty, Reserve, National Guard, retired and former service members are all eligible to apply for their scholarship.