Visit Yardi
By Natalie Mahn on Aug 24, 2021 in Senior Living
For many of us, in person events bring a sense of enlightenment and inspiration. Plus, they provide a chance to connect with others. And with shutdowns across the span of COVID-19, events have gone virtual. Now, as more people get vaccinated and the world emerges from the pandemic's challenges, many associations are welcoming attendees back in person.
This holds true in the senior living industry. Professionals are once again tasked with choosing which events to attend, aiming for those that are educational and prioritizing attendees' health and safety. We're pleased to offer an event that meets said criteria: The Argentum Senior Living Executive Conference & Expo, set to take place September 13-15 in Phoenix, Arizona.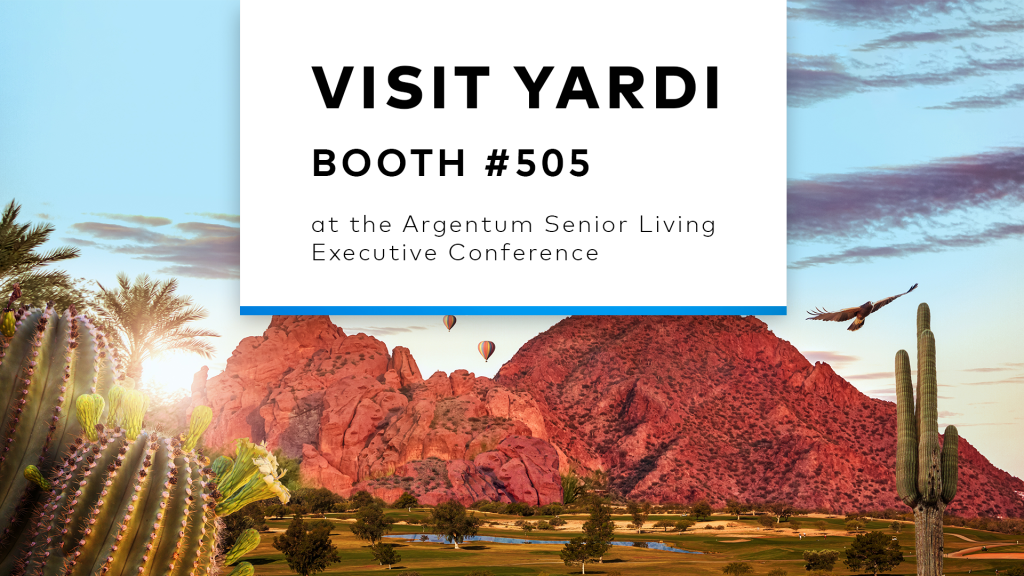 Argentum 2021: Better Senior Living Together
This year, Argentum invites you to partake in the ultimate networking opportunity. With over 2,500 attendees from 750 different companies, you'll have the chance to connect with transformative executives, gain fresh perspectives and discuss solutions for today's senior living challenges. By joining like-minded leaders across the industry, you'll take home ideas to enhance your own operations — and enrich the lives of your residents.
And the health and safety of all attendees is a priority for Argentum. According to the association's website, "Argentum has committed to instituting a variety of measures aimed at protecting your health and safety. Specific event details around the measures below will be updated on a regular basis and communicated to all attendees, exhibitors, vendors, and speakers." You can read more about their health and safety commitments here.
Ready to network, learn and explore? Yardi is sponsoring the registration and we invite you to come meet our team, learn about our pioneering software solutions and attend our speaking session on business intelligence.
Attend our session: Driving Performance with Business Intelligence
Save the date for Tuesday, September 14 and join our session led by Yardi Senior Sales Director Richard Nix and Yardi Regional Director of Sales J.R. Southerland. From 9:45-10:45 a.m. you'll have a front row seat to discover how Yardi Senior IQ, a business intelligence solution, drives performance in senior living. We're thrilled to feature insights from a range of Yardi senior living clients, including:
Meet with Yardi: Booth #505
We're excited to meet you in person at this year's Argentum conference. Find us at Booth #505 to learn how the Yardi Senior Living Suite — a single connected solution — steers communities forward. Our friendly team will show you how the right tools can streamline operations, improve resident care and more. Connect with us and plan a visit.
We hope you'll join us for three days of discovery as Argentum connects professionals across senior living. See you in September!