See you at Argentum 2023
By Natalie Mahn on May 2, 2023 in Senior Living
The Argentum Senior Living Executive Conference is nearly here — an annual gathering of industry professionals, operators, owners, executives and community leaders! You can find our senior living team in attendance throughout the three-day event, stationed at booth 3100 and ready to share the latest innovations in the Yardi Senior Living Suite.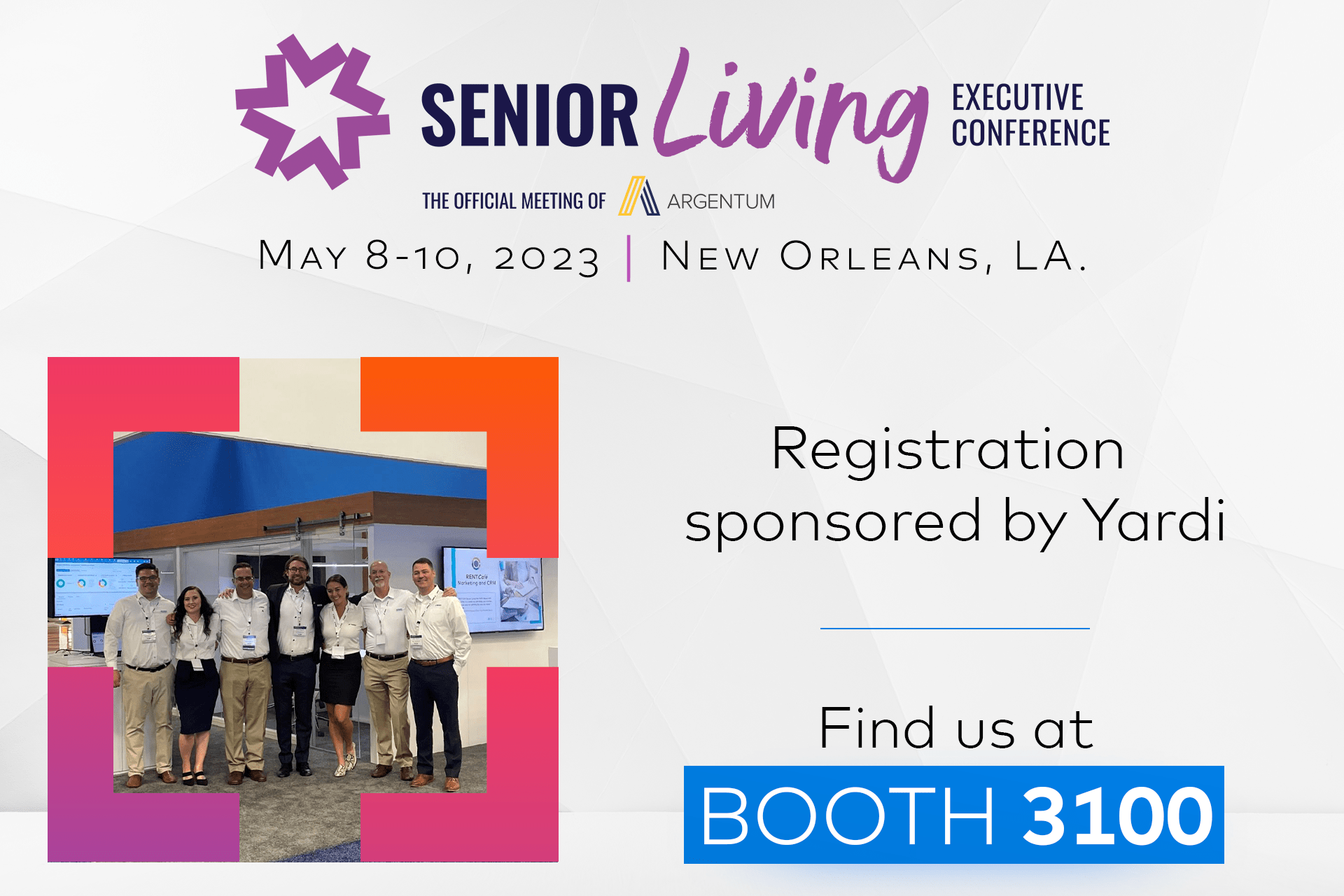 With this can't-be-missed opportunity on the horizon, here are the details to know:
About the Argentum Senior Living Executive Conference
The Argentum Senior Living Executive Conference & Expo, the official meeting of Argentum, is a must-attend event for senior living professionals. It offers the chance to connect with the leaders of today, discuss the challenges facing the industry and help shape what the future looks like.
According to Argentum, no matter your role, title or job responsibilities, you will discover relevant sessions and education tracks designed for you at this year's conference.
Event details for Argentum 2023
Ready to see exactly what this year's event has in store? View the details on Argentum's site. We'll share the high-level details here:
Dates: May 8-10, 2023
Location: New Orleans Ernest N. Morial Convention Center in New Orleans, Louisiana
In addition to our booth presence (details below), we're excited to contribute to Argentum 2023 by sponsoring the registration. Once again, you can find important details and instructions to register on Argentum's official conference page.
Visit Team Yardi
We know everyone wants to make the most out of Argentum 2023, and that requires networking and building connections as much as possible. Luckily, you'll have the chance to meet with us — and thousands of your peers — throughout the three days. By meeting with us, you get a closer look at our evolving technology solutions designed specifically for senior living.
You can find us at booth 3100 — we'll be ready to show you all around the Yardi Senior Living Suite! From business intelligence to electronic health records, our amazing solutions unite on a single platform to help providers build success.
You can get something on the books in advance by scheduling time to meet us at the conference, or simply stop by whenever you'd like. We look forward to connecting!
See you in May!
We hope to see you at the 2023 Argentum Senior Living Executive Conference. If you have any questions for us prior to the three-day event, or you want to schedule a meeting time, don't hesitate to reach out.