Happy New Year!  
By Natalie Mahn on Jan 9, 2023 in Senior Living
To ring in the new year among our senior living team, we're doing one of our favorite posts — one that features our senior living clients! That is, we're highlighting clients' positive stories and celebrations from the 2022 holiday season. We hope these bits of magical, holiday wonder help you start the new year off with a smile.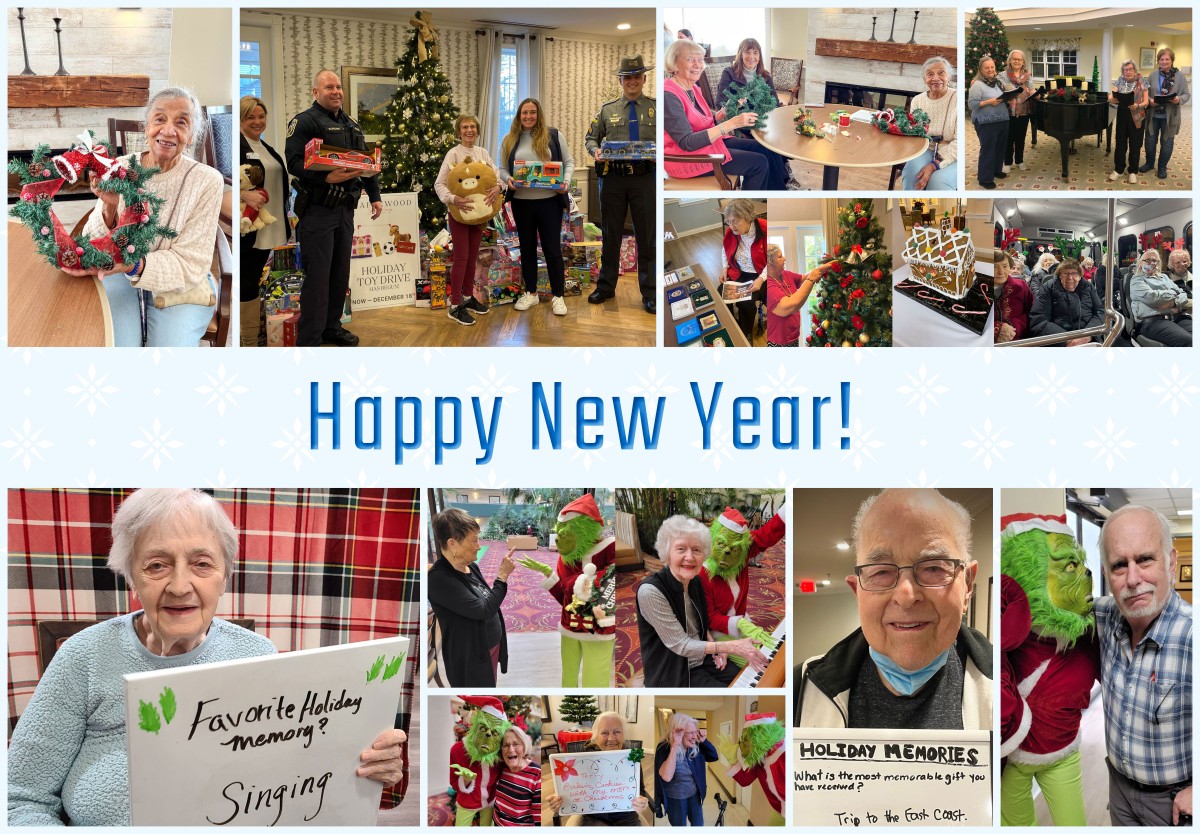 Holiday momentum in senior living
At various Maplewood Senior Living communities, the holiday season was filled with creative activities for residents. We're talking classics like wreath-making and Christmas tree decorating, all the way to an educational class on official White House ornaments. Maplewood also shared one community's participation in a local holiday toy drive in which residents, families and staff donated to gift to children in need. You can find cheerful photos from each holiday event on Maplewood's LinkedIn page.
Benchmark Senior Living partook in quite a few holiday activities, too. You can see for yourself in this carousel of photos on Benchmark's social media, which features things like community decorating and residents singing around the piano. Our personal favorite might be this compilation of holiday cookie recipes Benchmark shared, featuring their residents' top picks. We may have to save these for baking year-round!
Residents at a Watercrest Senior Living community enjoyed a holiday feast with loved ones this Christmas season, before heading for horse-drawn carriage rides. Did we mention hot cocoa and freshly-baked cookies were involved? There may not be any horses spotted in their social media collage, but you'll see another surprise visitor (think red suit, white beard) enjoying the evening with residents. The community even did a second round of this event, pictured on LinkedIn as well.
Tapping into the magic of Christmas Eve, check out this video shared by Brightview Senior Living, featuring residents reading a classic holiday poem. Then make your way to Brightview's LinkedIn for another video full of holiday happiness where residents (festively dressed, we might add) enjoy a bit of dancing.
Pacifica Senior Living had several festive events to share, but one community's surprise visit from the grinch deserves the first mention. We can't do the description justice, so you'll have to look at the photos to see. Pacifica also had residents share their favorite gifts, traditions and memories from holidays past — pictured here — and held special occasions like a Christmas tree lighting, a holiday craft fair and pancakes with Santa. The organization shared a taste of their New Year's Eve celebrations, too, featuring delicious food and great company.
Happy New Year from team Yardi
It's great to see how our clients brought 2022 to a close, and we hope this post gave you one last spark of holiday magic. We look forward to seeing what happy moments these communities share throughout 2023!