Senior Living Ebook
By Natalie Mahn on Aug 20, 2021 in Senior Living
As pandemic restrictions loosen, senior living providers face new challenges. They need the right tools to streamline workflows, empower staff and provide quality care — while still prioritizing safety.
Luckily, a recent online roundtable gathered experts to guide providers through it all. Sponsored by Yardi, the McKnight's Senior Living Executive Power Panel assembled Yardi Director of Healthcare Solutions Fil Southerland, along with two other industry executives, to discuss tactics for navigating the current landscape. But in case you missed it, their discussions are highlighted in a brand new ebook — available for you to explore.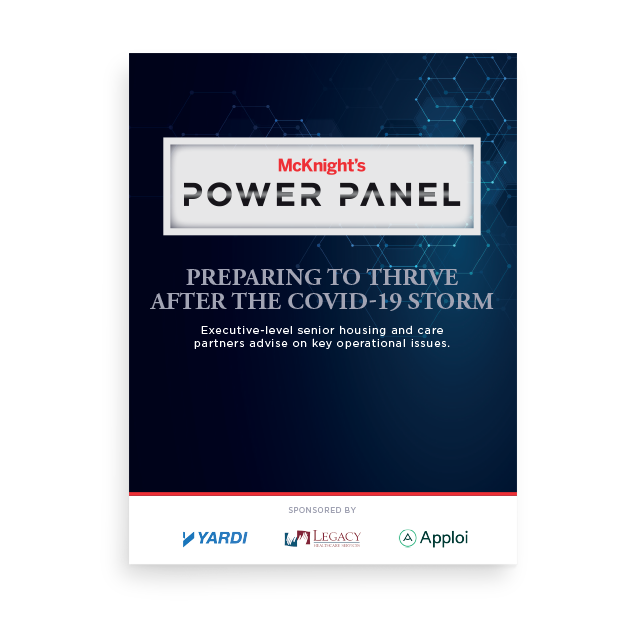 Today's industry experts offer fresh insights
Given the ongoing pressures of the pandemic, McKnight's recognized the need for expert insight in senior living. Their online roundtable covered a range of topics — with discussions centered on the latest industry obstacles. How can providers approach today's challenges? How can they prepare for the future of senior living? Each executive aimed to answer these questions and bring something insightful to the table.
The ebook captures their expert opinions, pieces of advice and more. At a glance, you'll learn:
How to improve staffing levels & retention
The importance of digital workflows
Today's best infection control practices
And more!
About panelist Fil Southerland
Fil Southerland has been involved with the LTPAC industry for over 15 years, and currently serves as Director of Healthcare Solutions at Yardi, where he leads initiatives in electronic healthcare records and interoperability.
Prior to his time at Yardi, Fil served as Founder and CTO of ALMSA, Inc., a nationally recognized cloud-based electronic health provider in the Assisted Living industry. With expertise in Health Information Technology, digital privacy and LTPAC policy and interoperability initiatives, Fil is passionate about using technology to improve outcomes for residents and care providers.
Explore the ebook to start learning. For more information on Yardi's solutions in senior living, check out our product suite.