Senior Living Webinar 
By Natalie Mahn on Feb 16, 2022 in Senior Living
How should providers maneuver the latest roadblocks in senior Living? From staffing to compliance, there's a lot to unpack. And it's a crucial time for industry leaders to discuss these issues — and offer solutions for the year ahead.
Fortunately, that's exactly what's happening on February 23. Get ready for an informative McKnight's Power Panel — Pandemic Year III: Keys to Success — sponsored by Yardi. The virtual roundtable starts at 1 p.m. EDT and you don't want to miss it.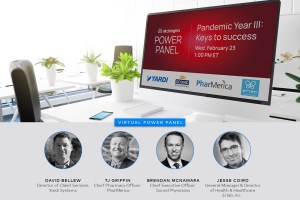 Pandemic Year III: Keys to Success
The McKnight's Power Panel will feature top experts from different verticals across long-term care. They'll explore the latest issues in senior living, including staffing, compliance, reimbursement, technology and other vital subjects, then they'll focus on tactics for the future.
Join the webinar to see firsthand. You'll learn from panelists like Yardi expert David Bellew, with takeaways on:
Controlling labor costs through staffing analysis
Automating investor reporting
Property acquisitions: data planning and conversion
Optimizing care service billing
Going mobile: enterprise mobile device strategies
The webinar will also feature panelists TJ Griffin, chief pharmacy officer at PharMerica, Brendan McNamara, chief executive officer at Sound Physicians and Jesse Coiro, general manager and director of health and healthcare at Erlab, Inc.
More on panelist David Bellew
David Bellew is an accomplished leader in the healthcare industry. Currently serving as the Director of Client Services here at Yardi, David has over 20 years of experience implementing enterprise software systems. Through years of dedication, he has become highly skilled in requirements analysis, as well as managing implementations for ERP and clinical systems.
Register today
We hope you'll join the conversation on February 23! Mark your calendar now and register for the McKnight's Power Panel. To explore Yardi solutions in senior living, check out our Senior Living Suite brochure.