Tap Into Clinical Data
By Natalie Mahn on Apr 6, 2022 in Senior Living
When it comes to viewing clinical data, senior living providers need a solution that paints the full picture. How many resident falls occurred during a particular shift this week? What percentage of residents are vaccinated against COVID-19? Thanks to the latest Senior IQ update — 1.18 to be exact — these answers are available at the click of a button.
That's right, this business intelligence solution now draws clinical data directly from Yardi EHR and presents it in brand-new dashboards. You can track clinical trends, identify residents at risk, pinpoint problems and improve protocols — all from a single platform. No more digging for answers or making best guesses. With Senior IQ, you're enabled to make smarter, faster decisions based on actionable information.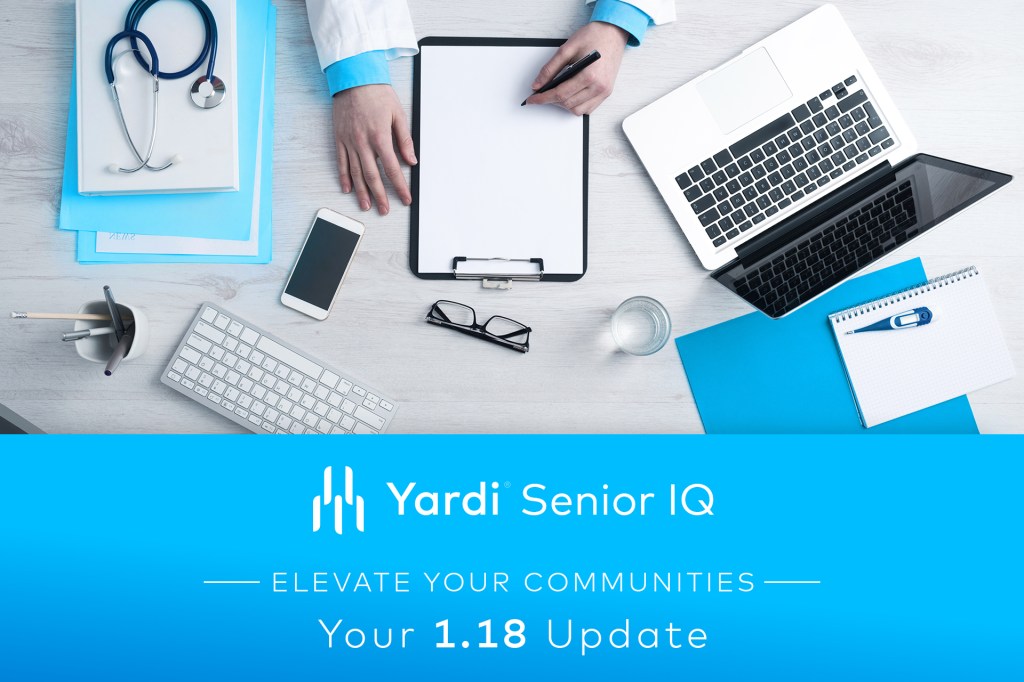 Ready to see more? Let's get right to it. See below for a highlight of the new dashboards and enhancements in Senior IQ:
Analyze resident falls
Courtesy of the new clinical falls dashboard, Senior IQ clients now have access to detailed fall
metrics. Here you'll see fall rates by month, check whether repeat falls are occurring, view falls
categorized by time of day and more.
With clear, valuable information presented in the dashboard, you're equipped to tie falls back to
staffing, identify protocol problems and ultimately uncover what's jeopardizing resident safety.
And these detailed fall reports help you develop action plans to prevent future incidents.
Streamline reporting
Ready to simplify your reporting process? With Senior IQ, you'll tap into insightful data that's automatically updated from the previous day. Each dashboard's data points were carefully selected by Yardi's clinical and compliance team to help you track quality measures and performance metrics.
Track vaccinations
We know the importance of vaccination tracking, especially in communities today. Luckily, the new clinical vaccination dashboard helps you track exactly how many residents have accepted, received or declined important vaccinations. You can then use vaccination rates to make critical decisions regarding health and safety protocols, including for COVID-19.
Monitor antipsychotic usage
With the new clinical medication dashboard, packed with upgraded graphs and measures, you can see which residents are receiving antipsychotic medications. From there, you can verify that each resident has a proper diagnosis to ensure no antipsychotics are being administered without cause.
Unite clinical & financial data
What's better than viewing business-wide data on a single platform? The new clinical census measures dashboard combines census information, financials and clinical data in one centralized place. With this comprehensive information readily available, you're enabled to make informed decisions for your entire business.
More on Senior IQ
Yardi Senior IQ is a business intelligence solution that surfaces real-time data in attractive, sharable dashboards. Drawing portfolio-wide data from Yardi Voyager Senior Housing, the solution provides pre-configured key performance indicators (KPIs) that help visualize important metrics and industry benchmarks. Senior IQ provides the insights needed to act confidently and make quick, strategic decisions.
For more information on Senior IQ, check out our product suite or this one-page infographic.
Explore the new clinical dashboards & enhancements
Ready to explore the 1.18 update in detail? Current clients can select the Help button in Senior IQ, follow the navigation pane on the left-hand side and choose Updates and New Features. But remember, every enhancement has been added to your Senior IQ automatically! That means you can access the new clinical dashboards today.
We hope you enjoy the latest features. We're constantly working to make Senior IQ more dynamic by incorporating client feedback, so from the entire Yardi senior living team, we thank you for your input! With this particular update, we strove to make clinical data easy to find, interpret and use for driving decisions in your communities.
If you're new to Yardi solutions, we're happy to show you more and answer questions. Contact us for a personalized demonstration of Senior IQ.