Changemakers Series
By Natalie Mahn on Jun 20, 2022 in Senior Living
It's time to introduce the next round of 2022 Changemakers — senior living leaders who are spearheading innovation across the industry. This Yardi-sponsored series, in collaboration with Senior Housing News (SHN), features in-depth interviews with leaders to capture their stories, strategies and advice.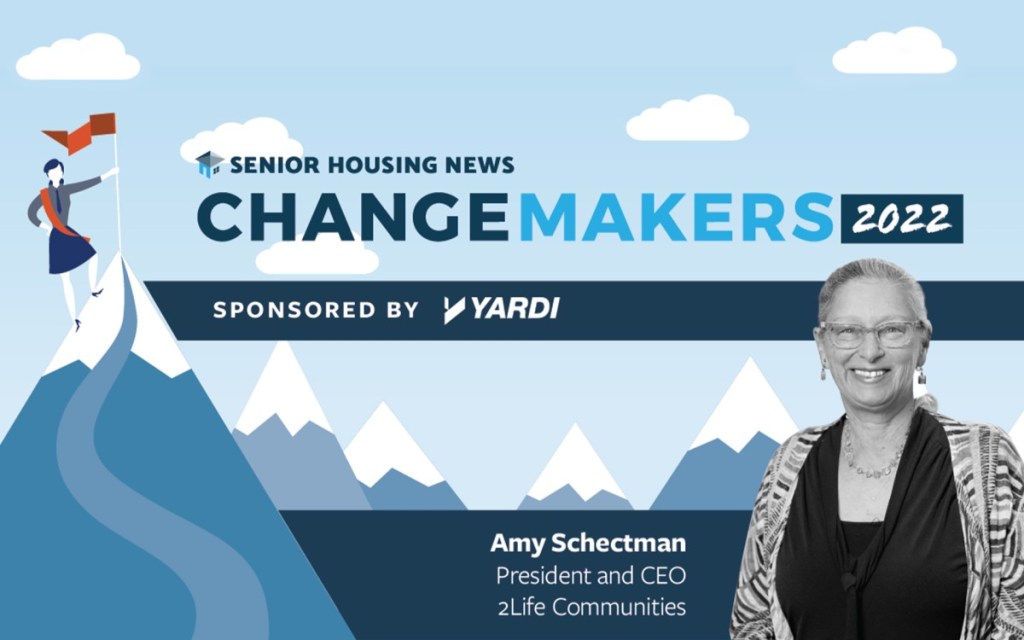 If you're interested to read about the Changemakers series in its entirety, visit the SHN website. There you'll gain access to individual interviews, including that of the Changemaker we're highlighting today: Amy Schectman, president and CEO of 2Life Communities.
About Amy Schectman
In leading 2Life Communities for over a decade, Amy Schectman has developed a knack for strategy development. From creating a quasi-endowment to support agency innovation to launching an expansion campaign to fill the gaps in senior housing, Schectman has driven positive change throughout her journey as 2Life Communities president and CEO.
In her SHN interview, Schectman covers her focus on powerful diversity, equity and inclusion at 2Life — and that's only the tip of the iceberg. Read the snapshot below then explore Schectman's full interview for more.
SHN: Thinking back on your career in senior living, what are some of the changes you're especially proud of leading?
Schectman: I am very proud of elevating the profile of affordable, subsidized senior housing to make it more than just a place people have to live. I think we've created some incredibly dynamic and supportive environments shaped by what we call "resident-centric property management." We articulated that, made it our benchmark and figured out how to turn it into a sustainable model. It's about cherishing and nurturing our folks in the long run.
We work hard to prevent unnecessary ER visits and nursing home placements, and we've pushed the envelope of integrating housing and health care to maximize the chances of living a great life with us. The whole articulation of aging in community as a model and mapping out the eligibility for affordable housing put us on a path to fill the market gaps that other communities can't meet.
One of those market gaps is the middle market, and the other is people in tax credit housing who don't have vouchers. Many older adults who earn between 40% and 60% of Area Median Income qualify for affordable housing but not affordable services. We're working with our case management program to figure out how to serve that group as well.
SHN: Do you see yourself as a Changemaker? And are you always excited to drive change, even with the risk involved?
Schectman: Yes, I do. I've been at 2Life for eleven and a half years. During that time, I absolutely focused on driving change. Before that, I ran public housing and rental assistance for the state [of Massachusetts]. Public housing is two-thirds older adults, but it's not quite the senior living industry. As I look at my career, the one pattern I can point to is making change and moving agendas along.
Today, we're making changes to expand our reach. We've built a stable organization that we're trying to take to the next level. Understanding change and opportunities, then executing a strategy to realize them has been a consistent part of what I do.
SHN: What changes do you believe need to be made in senior living in the next 3-5 years?
Schectman: As the baby boomers continue to account for more of the aging population, they bring their value set with them. They don't want a cruise or a hotel experience, but to continue the pursuit of social justice, positive change and community.
I think we're a different generation. What appeals to my parents' generation does not necessarily appeal to my generation. We used to hear, "I don't want to cook. I don't want to clean. I don't want to do those things. I want to relax and play cards." I don't think our generation wants to be catered to in that way. Our generation wants opportunities to make a difference in the world and to continue our thirst for justice. That creates a need for a different kind of environment. The future aging population will want opportunities to be part of something bigger than themselves, and I think we need to recognize that.
Read Amy Schectman's full interview
Ready to read more? Head over to Amy Schectman's complete interview with SHN. To read the rest of the Changemaker interviews available to date, visit the SHN site.