Aegis Living
By Natalie Mahn on Apr 20, 2021 in Senior Living
While the past year has been challenging for senior living providers, they haven't lost sight of what's important — keeping residents, families and staff safe and healthy. And for Aegis Living, their dedication and genuine efforts haven't gone unnoticed.
Not only is the company prioritizing resident care in the face of COVID-19, they're also working to protect the well-being of their employees. That's why they're certified as a great workplace by independent research firm Great Place to Work US.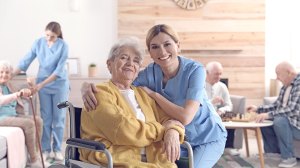 "With nearly 2,000 team members surveyed across 32 locations, Aegis Living received a 75% trust index score after being evaluated on more than 60 criteria of team members' experience on the job, including community impact and feeling that their work has special meaning," shared Aegis Living on LinkedIn. "We're so proud of our teams and our purpose-driven organization."
Building a stronger culture
Meeting the criteria for a Great Place to Work certification is no easy feat. Leaders must constantly strive to build a better environment for their employees — laying the groundwork for an inclusive culture, high levels of trust and a true passion for the work being done.
Dwayne Clark, founder and CEO of Aegis Living and Senior Housing News/Yardi Changemaker, has built just that. With extensive experience in senior living, Clark has focused on listening to employees, incorporating their ideas and helping them pave a successful career path. And since starting Aegis 20 years ago, company culture has remained a top priority — including during the pandemic.
Clark attributes a large part of the company's success to his team. In this light, Aegis Living's admirable culture is a combination of excellent leadership and dedicated employees.
Becoming an award-winning provider
Aegis Living's recognition doesn't stop there. In addition to the Great Place to Work certification, they're also deemed an Aging Media Network 2021 Aspect Award Winner for having exceptional COVID-19 messaging and communication.
"The past 12 months have been a challenge to say the least," wrote Clark on LinkedIn. "I'm honored that Aegis Living has been recognized for our informed and hopeful communication to not only our residents, but to the nation as a whole."
Yardi commends Aegis Living for their efforts in making a difference — both for their residents and families, as well as their devoted employees.