Resmark's 10Eleven
By Keith Loria on Apr 8, 2015 in News
Yardi client The Resmark Companies has teamed with Streetscape Partners LLC and Community Three Deve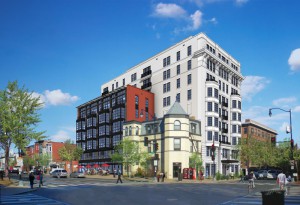 lopment LLC to develop 10Eleven, a 71-unit condominium and 4,257 square feet of ground-level retail space, in the historic Logan Circle area of Washington, D.C.
"The project, dubbed 10Eleven, will appeal to professionals seeking a high quality, newly built urban residence that offers a walkable lifestyle with excellent access to public transportation, employment, amenities and services," Alexandra Johns, Resmark's senior vice president investments, told MHN. "In addition, the project will include retail and restaurant space on the ground floor to offer homeowners and neighbors even more options for everyday convenience and onsite leisure."
Located at 1011 M St., 10Eleven will appear to be two distinct buildings, inspired by the rowhouses and classic apartment buildings in the neighborhood, and suggesting the attention to detail carried throughout. The 71 condominiums will include one- and two-bedroom floor plans and luxury penthouse units.
The roof deck, reception lobby and corridors will feature a sophisticated level of finish with design by Darryl Carter, a noted D.C. tastemaker, author and boutique home design retailer.
Chief among the amenities is a roof deck with grill, fireplace, trellis and furnishings that will offer views of the skyline and space for outdoor relaxation and entertainment.
The property's location, at the intersection of 11th and M Streets, NW neighbors other new residential developments as well as classic townhomes and smaller commercial buildings on tree lined, pedestrian friendly streets.
"Logan Circle is a historic area of the District that melds modern developments with classic Victorian heritage," Johns said. "The neighborhood is eminently walkable—just two blocks north of the Central Business District and surrounded by four Metro stations. And Logan Circle is known for its variety of retailers, restaurants, art galleries, live theater and nightlife options. A Whole Foods market in the neighborhood is one of the chain's highest grossing locations and is one symbol of the area's desirability."
According to Johns, the equity investment in 10Eleven reflects Resmark's practice of seeking unique opportunities in strategic markets that we believe will continue to offer strong job and population growth.
"The investment also reflects Resmark's commitment to building strategic relationships with high-quality developer partners with whom we believe Resmark can complete multiple transactions," she said. "Both Streetscape Partners and Community Three Development have demonstrated great strength in urban development, which make them great joint venture partners for this addition to Resmark's Metro D.C. portfolio."
The project is expected to welcome its first residents in January 2016.