Screening Strategies
By Lee Ann Stiff on Feb 9, 2021 in News
Along with changing the way we do almost everything, 2020 caused multifamily operators to re-think their marketing and leasing strategies — including applicant screening. While most businesses have pivoted to online services and are seeing benefits including reduced operational costs, online resident screening requires some attention to ensure quality renters are selected and risk is minimized.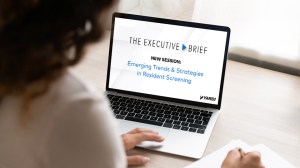 The latest webcast of The Executive Brief series, Emerging Trends & Strategies in Resident Screening, tackles this very issue. In this session Patrick Hennessey, Yardi's vice president overseeing ScreeningWorks Pro, talks to Sarah Ogelsby-Battle, president of residential at Beztak and Jennifer Hayward, vice president of transition management at Pennrose, about how they've adjusted their resident screening strategies during the pandemic and for the future. From national trends in apartment application data to fraud prevention, these industry pros share insights to help guide multifamily screening practices in 2021 and beyond.
National Rental Application Trends
While screening volumes were at a historic low from mid-March to mid-May in 2020, after reaching normal volumes by the end of May, the industry saw a spike with higher-than-ever volumes in July, August and September. According to Hennessey, "Not only did most of the people who weren't in the rental market in March and April re-enter, but we also saw additional people entering the market."
Hennessey pointed out a few other interesting trends in rental applications including how and when they're being submitted. "One of the interesting things we observed as things went virtual and people were doing self-guided tours and applying online, is we've been seeing fewer and fewer screenings on weekends and into Mondays, and a spike in screening and leasing activity on Tuesdays, Wednesdays and Thursdays." He added that some clients have restructured their on-site team schedules as a result.
With reduced application volumes in many urban markets including New York City, Chicago and Washington, D.C., and increased application volumes in suburban and tertiary markets, no material change in applicant incomes has been observed — which indicates that working from home has created a new opportunity for many renters to leave pricey urban areas.
And with a 30% increase in online applications in 2020, it's clear that online leasing is here to stay. But when it comes to vetting applicants sight-unseen, online resident screening with fraud prevention is a smart strategy. For example, ID Verify captures government-issued IDs such as driver's licenses and passports and checks those ID photos against real-time selfies to confirm identity, so leasing teams can be confident that their applicants are who they say they are.
Managing Risk and Helping Good Renters
With credit-challenged applicants re-entering the rental market in 2021, operators should consider rental payment histories along with credit scores that might be less than optimal. Increased consumer protection laws as a result of the pandemic will also necessitate looking at data other than FICO scores to identify good renters who met unexpected financial challenges in 2020.
Beztak manages a diverse portfolio of multifamily, commercial and senior living properties. Pennrose manages multifamily, affordable, mixed use and mixed income properties. When asked if Beztak and Pennrose have relaxed their resident screening criteria due to the pandemic and decreased rental demand in urban markets, both Ogelsby-Battle and Hayward said no — their standards have remained intact.
When asked about Beztak's decision to continue with strong screening criteria through the pandemic, Ogelsby-Battle said, "We want to make a strategic investment and not approve risky applicants for a little revenue now who might cost us thousands of dollars on the back end."
Accessing Rental Payment Histories
To further strengthen Beztak's effort to select quality residents using ScreeningWorks Pro, they added the rental payment history service to identify applicants with no eviction records and a strong rental payment record. "We started using rental payment histories, and we can truly see how residents have behaved with previous landlords. We have also increased security deposits at some properties to really protect our bottom line."
Hayward said that Pennrose has observed many of the same trends as Beztak. "We saw a huge jump in application processing in the third quarter of 2020, and we have seen more people with no or little credit experience along with prospects who are a bit older than our average applicant." Hayward added that like Beztak, Pennrose is using the rental payment history service in ScreeningWorks Pro to make sure they are selecting residents who pay their rent on time.
Being guided by industry data is how both companies are approaching leasing in 2021 and the future. Ogelsby-Battle added, "We want to make sure we're taking the smartest approach to leasing. That means a screening strategy that includes fraud alerts and also getting healthy security deposits while maintaining pretty stringent criteria."
Want to hear more trends?
Visit yardi.com/brief to watch the full episode on demand. Or join one of the other brief sessions on asset performance, operations, marketing and more.