NAA Digital Studio
By Erica Rascón on Apr 12, 2021 in Events, Matrix
Do you want to emerge from 2021 with a more efficient, agile and profitable organization? Discover insights to help you reach your goals during the National Apartment Association (NAA) Digital Studio Series!
Stronger NOI in 2021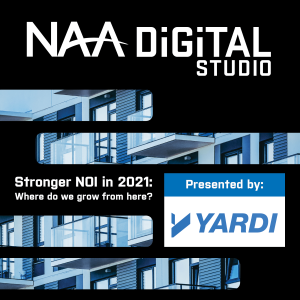 The April NAA Digital Studio, presented by Yardi, is a half-day event including deep dive and interactive sessions, industry panels, networking and more. This month's theme is "Stronger NOI in 2021: Where do we grow from here?" Experts from leading multifamily companies across the country will discuss the many ways in which COVID-19 has impacted the real estate industry and, more specifically, apartment management.
Each session features unique programming that tackles common industry challenges. Through the sessions, you can:
Explore market changes and projected financial impacts to help you plan smarter in 2021 and beyond.
Gain insights from multifamily leaders who will share new performance metrics they're using to change the way they do business.
Discover ways to improve net operating income beyond rent increases.
Featured speakers include guests from Luma Residential, Bell Partners, BH Management Services, Cirrus and more.
Industry professionals focused on operations, marketing, technology and related roles will walk away with practical, actionable items to strengthen your organization.
Work + play
The event kicks off with keynote speaker Jeff Adler, vice president of Yardi Matrix, offering an engaging look at the latest multifamily data. Examine changes in rent growth, occupancy, retention and renter preferences over the last 12 months. Learn how new demographic patterns have affected top and bottom markets. Attendees will also see rent and occupancy forecasts for a variety of property groups. Then, stick around for additional sessions that connect the market update to real-life experiences and plans to protect NOI going forward.
End the day with a relaxing musical interlude. Leslie and Jim will perform popular hits live, taking your requests and sharing how the music industry is coping during the pandemic. Settle in for a little fun while you wrap up your to-do list.
See more details on the schedule.
Join us for NAA Digital Studio
This event takes place on Thursday, April 22, from 11:30 a.m. through 5 p.m. ET. Register free for April's NAA Digital Studio today! Attendees are eligible for three (3) Continuing Education Credits (CECs) towards your NAAEI credential. A letter of attendance will be sent to you after the event.
Please direct all CEC inquiries to the NAA Education Institute at [email protected].