Star Power
By Lee Ann Stiff on Mar 31, 2020 in Energy, News
According to the Environmental Protection Agency, using energy efficiently is one of the fastest and most effective ways to save money, reduce greenhouse gas emissions, create jobs and meet growing energy demand.
Yardi has once again been named ENERGY STAR® Partner of the Year. The award celebrates companies demonstrating superior leadership, innovation and commitment to environmental protection through energy efficiency and ENERGY STAR.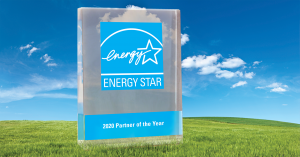 ENERGY STAR provides information that consumers and businesses rely on to make well-informed energy efficiency decisions. Thousands of industrial, commercial, utility, state and local organizations — including more than 40% of the Fortune 500® — rely on their partnership with the U.S. Environmental Protection Agency to deliver cost-saving energy efficiency solutions.
The award acknowledges Yardi's effort to educate and support clients with benchmarking services and technology solutions across a variety of real estate sectors. In 2019, Yardi helped more than 100 clients benchmark energy in ENERGY STAR® Portfolio Manager® for over 2,300 buildings, leading to a nearly 110 percent increase from the previous year. Yardi helped clients benchmark water in over 2,000 buildings, a 300 percent increase from 2018. In addition, Yardi actively promotes ENERGY STAR benefits, publishing more than 20 articles and providing resources for benchmarking energy performance and energy management such as  webinars, client conferences courses, executive briefings sessions and other activities.
"We are very proud of our clients' continued success in using ENERGY STAR resources to achieve their corporate and community sustainability goals and we look forward to helping them and the industry reap even more ENERGY STAR benefits going forward," said Anant Yardi, president and founder of Yardi. The company has earned ENERGY STAR certification for its corporate headquarters in Santa Barbara, Calif., and helps its real estate clients measure success and provide visibility into their ENERGY STAR scores by building it into energy management software dashboards to maximize efficiency and reduce costs.
An EPA statement applauded Yardi and other ENERGY STAR award recipients for exemplary dedication to leadership in energy efficiency and the ENERGY STAR program. "I salute the 2020 ENERGY STAR award winners. These leaders demonstrate how energy efficiency drives economic competitiveness in tandem with environmental protection," said Anne Idsal, EPA principal deputy assistant administrator for air and radiation.
Since 1992, ENERGY STAR and its partners have helped save American families and businesses more than $450 billion and over 3.5 trillion kilowatt-hours of electricity while also achieving broad emissions reductions — all through voluntary action. In 2017 alone, ENERGY STAR and its partners helped Americans avoid $30 billion in energy costs. For more information, visit energystar.gov.
To learn more about getting support for your energy management and sustainability goals, join a free energy management webinar.