Sports Arenas
By Joel Nelson on Mar 10, 2022 in Energy
Sports arenas attract vast attention with their aesthetic qualities, luxurious amenities, association with high-profile teams and iconic imprint on city skylines. But did you know that beyond their opulence, many modern arenas represent leadership in sustainability?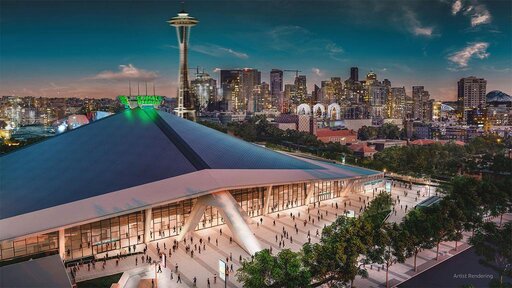 "Many sports venues have jumped on the sustainability bandwagon to construct or renovate their structure in a race to minimise their carbon footprint, preserve their green legacy and take the lead in innovation," says London-based Climate Action, which partners with business, government and public entities on sustainability projects.
Sports arena sustainability is a global trend. Examples include:
The Johan Cruijff ArenA (formerly Amsterdam ArenA), home of the Ajax football club. The Netherlands' largest stadium employs more than 4,200 solar panels and a wind turbine. Its main building includes an energy-generating escalator and an energy system powered by second-life batteries from used electric vehicles.
Mercedes-Benz Stadium, where the NFL's Atlanta Falcons play their home games. In November 2017, soon after it opened, Mercedes-Benz became the first professional sports stadium to receive a platinum Leadership in Energy & Environmental Design (LEED) certificate for meeting rigid standards for carbon, energy, water, waste, materials and other factors. The arena's energy consumption is reportedly 29% less than what the average stadium consumes thanks to LED lighting and 4,000 rooftop solar PV panels. A stormwater management system can store over 2 million gallons onsite, preventing flooding in surrounding areas.
Levi's Stadium in Santa Clara, Calif. The home of the NFL's San Francisco 49ers since 2014 has earned two LEED certifications, including the first Gold LEED certification awarded for a stadium that hosts a professional team, plus a second Gold certification for operations and maintenance. Levi's also incorporates 1,000 solar elements and sources 78% of its food from within 150 miles of the stadium.
Seattle's Climate Pledge Arena, whose website describes it as "the most progressive, responsible, and sustainable arena in the world." The indoor venue, which opened in October 2021 and hosts the city's new NHL franchise, the WNBA's Seattle Storm and top touring musical acts, consumes no fossil fuels for daily use. It instead relies on solar panels and offsite supplementary renewable energy for 100% renewable energy power. Its ice rink is made from water harvested off the roof. The arena's ownership intends to eliminate single-use plastics by 2024.
Ras Abu Aboud Stadium in Qatar, constructed in 2021 from 974 recycled shipping containers. It stands as "the first [venue] built in World Cup history that was meant to be torn down," CNN reported. After hosting the 2022 FIFA World Cup, the 40,000-seat stadium "can be dismantled in full and transported to be built again in a different country; or you could build two 20,000-seature venues," according to Mohammed Al Atwan, the stadium's project manager. Furthermore, CNN reports, "the Gulf state is committed to delivering a carbon-neutral World Cup through offsetting emissions – before, during and after the event" in November and December.
Multiple U.S. sports arenas that have achieved LEED certification, including Citi Field in New York City, Milwaukee's American Family Field and Toyota Center in Houston. U.S. Bank Stadium in Minneapolis was the first professional sports stadium to achieve Platinum status, the highest level of LEED certification.
"The beauty of green building, in my mind, is its simplicity of design and operation," Tim Shipton, an executive with Oilers Entertainment Group, the parent company of the NHL franchise in Edmonton, Canada, said in 2015. "Focusing on sustainability doesn't just make sense from a business perspective: I think there are expectations in the city and amongst our fans that we do it."
Yardi is a sustainability leader among U.S. businesses as an ENERGY STAR® Partner of the Year Sustained Excellence Award winner.