ENERGY STAR Talks Tech
By Lee Ann Stiff on Dec 4, 2020 in Energy, News
Utilities are the second highest controllable expense for property owners, so measuring and managing consumption is critical to control costs and minimize waste. The EPA's ENERGY STAR® Partner of the Year Award Winner Webinar Series session on October 8 focused on innovative technologies (Innovative Technologies Part 2) for achieving energy efficiency. ENERGY STAR's Stacy Glatting was joined by Dan Egan, senior vice president of energy and sustainability for Vornado Realty Trust and Randy Moss, ENERGY STAR benchmarking team lead at Yardi. Egan and Moss shared compelling data about energy costs and talked about tech that makes significant savings possible for real estate operators.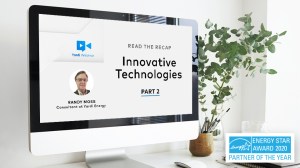 The big picture
Forward-thinking commercial building operators are implementing a variety of innovative technologies for energy management. Egan shared how Vornado has piloted induction unit valves at its buildings. Moss discussed how Yardi clients have achieved cost savings and maximized performance using a smart software platform that includes artificial intelligence to manage sophisticated building controls.
Data analysis from Yardi — incorporating wasted consumption estimates from ENERGY STAR — shows that after MRO, utilities are the second highest expense for real estate firms, and they are controllable with the right solutions. Consider these statistics:
Estimated annual spend across controllable expense buckets for 1M sq ft in a portfolio is around $1,980,000
The average commercial building is estimated to waste 30% of its consumption
Potential savings equal $600k annually for every 1M sq ft in a portfolio
"It's a data-driven proposition for energy efficiency. We must not only evaluate energy consumption for our buildings, but also more granularly understand tenant consumption and landlord/base building consumption to identify drivers of efficiency," explained Egan. He noted that the regulatory environment in New York City and the entire state compels companies to consider utility data sources such as the carbon intensity of the grid, hourly pricing (and carbon) signals and future transmission planning when evaluating different energy efficiency projects. "ENERGY STAR® Portfolio Manager® and ENERGY STAR® Tenant Space™ provide frameworks to obtain and monitor these types of data," added Egan. ENERGY STAR Tenant Space is a new EPA recognition for sustainability in leased office spaces.
Vornado Realty Trust's energy goals
Vornado is the largest owner of LEED-certified property in the U.S. and is a member of the Climate Group EP 100. According to Egan, Vornado's "Vision 2030 Roadmap" includes a total energy reduction goal of 50% with same-store portfolio. In 2019, the company reported progress toward that goal with a 24% reduction in energy use. "Energy efficiency goals must be a tenant partnership," said Egan. Considering the company reported about 60% of electricity costs are recovered via tenant submeter, that's no understatement. Egan offered these takeaways after discussing the company's approach to energy management:
Innovative technologies are sometimes tried-and-true solutions that are repackaged with automation and informed by good data to support their value
One must understand energy data at different points of the supply chain (from source to end use) to understand the value streams to add to the solution stack
Energy efficiency and GHG emissions reductions are often correlated but not always, and rarely linearly
Regulation and market signals will drive efficiency further and shift the focus towards electrification
Yardi Pulse for energy management
Yardi's Moss talked about managing energy and achieving sustainability using connected and responsive technology. For a complete energy management strategy across your portfolio, you must automate utility invoicing with the ability to mine and validate invoice data, benchmark sustainability, get real-time meter insights and detect system faults as they occur through constant monitoring.
With regard to best practices, an energy management system built into your property management platform to combine all your operational data will deliver the best results. Yardi Pulse enables commercial real estate operators to manage energy intelligence and automate energy equipment to lower costs, reduce consumption, keep tenants comfortable and improve efficiency from one connected platform. Plus, Yardi Pulse loads data into ENERGY STAR Portfolio Manager for benchmarking, inputs utility bill data into ENERGY STAR for any vendor not linked and provides data maintenance for annual ENERGY STAR submissions.
Moss shared results from three buildings across the U.S. using Yardi Pulse including invoice processing and ENERGY STAR benchmarking services:
35-story, 800k sq ft high rise building in Los Angeles achieved an annual reduction of 1.1M kilowatt hours, roughly $150,000 annual savings and reduced comfort calls from tenants
48-story, 1.5M sq ft mixed-use building in Chicago gained $285,000 annual electrical savings, a 1.2-year payback and $1.1M cumulative five-year cash flow
470k sq ft office building in Washington, D.C. saved $130,000 per year (~10% of total electricity cost)
Where the savings begin
To begin reaping benefits like the above across your portfolio, start with utility invoices. Moss explained, "Yardi Pulse starts with processing your utility invoices. With access to your invoices, we can help you meet compliance regulations for ESG platforms including ENERGY STAR. Yardi was named ENERGY STAR Partner of the Year in 2019 and 2020. For ENERGY STAR in particular, we do the work for you and expedite your sustainability benchmarking needs, including setting up links with vendors and completing data entry for your submission. We help ensure accuracy, timeliness and cost savings by outsourcing this often labor-intensive task. We compare the energy data from your utility invoices to the real-time data coming directly from your meters. By seeing how your worst performing buildings are using energy in real time it allows you to make small, incremental changes that have powerful lasting results. Actionable dashboards, reports and prescriptive alerts from Yardi Pulse help you reduce energy use and costs."
Moss emphasized it's critical to understand how your portfolio uses energy by accessing the real-time data coming directly from your meters. This visibility exposes opportunities for making small behavioral changes in your buildings that can lead to 3-5% average energy savings. And companies typically see ROI within weeks. "Once you have benchmarked and understood your portfolio, Yardi offers a variety of smart building solutions to automate HVAC control at your properties and maximize savings. Our solutions include equipment fault detection, smart thermostats and AI that automates your building's performance," said Moss.
Ready to learn more?
Join a free Yardi Pulse webinar to see the solution up close and get your energy management and sustainability questions answered.