Energy Honors
By Lee Ann Stiff on May 8, 2022 in Energy, News
Each year, the U.S. Environmental Protection Agency (EPA) honors a group of businesses and organizations that have made outstanding contributions to protecting the environment through superior energy efficiency achievements.
As a Service and Product Provider, Yardi is honored to receive the 2022 ENERGY STAR® Partner of the Year Sustained Excellence Award from the EPA and the U.S. Department of Energy after being named Partner of the Year for four consecutive years. The award celebrates companies that offer energy services and products in the commercial, institutional or industrial markets for successfully assisting their clients in strategic energy management and building design.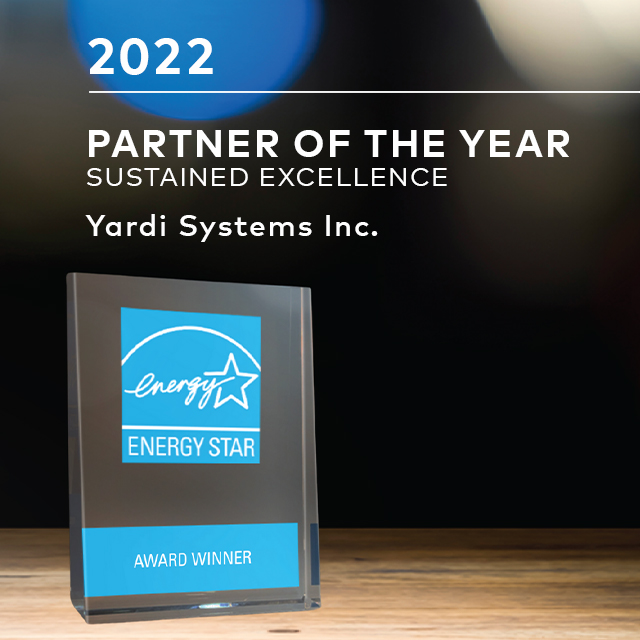 Highest EPA Accolade
The Sustained Excellence award is the highest honor bestowed by the ENERGY STAR program. Its winners have made a long-term commitment to fighting climate change and protecting public health through energy efficiency. They are among the nation's leaders in driving value for the environment, the economy and the American people.
Partner of the Year winners are not only promoters of ENERGY STAR, but also are especially adept at operating within the programs and work with ENERGY STAR to make ongoing improvements. The award acknowledges Yardi's efforts to educate and support clients with benchmarking services and technology solutions across a variety of real estate sectors.
Energy wins
According to the EPA, in 2020 alone, more than 270,000 commercial properties used EPA's ENERGY STAR® Portfolio Manager® tool to measure and track their energy use, water use, and/or waste and materials. These buildings comprise more than 25 billion square feet of floorspace more than a quarter of all the commercial floorspace in the nation.
In 2021, Yardi helped more than 200 clients benchmark energy in ENERGY STAR Portfolio Manager for over 5,000 buildings, a 42 percent increase from the previous year. Yardi helped clients benchmark water in over 4,000 buildings, a 33 percent increase from 2020. In addition, Yardi actively promotes ENERGY STAR benefits, publishing 70 articles and providing resources for benchmarking energy performance and energy management such as webinars, client conferences courses, executive briefings sessions and other activities.
"We're so proud to receive this top honor from the EPA for the fourth consecutive year, and we again applaud our clients' success. We look forward to continuing to help our clients and the real estate industry reap the benefits of using ENERGY STAR to meet their business and sustainability goals," said Akshai Rao, vice president at Yardi.
Learn more
Find out how Yardi empowers real estate companies to meet energy and sustainability goals.
See the complete list of 2022 ENERGY STAR Partner of the Year award winners.