Big Data Benefits
By Lee Ann Stiff on Oct 22, 2016 in News
At this year's Real Estate Strategy and Leasing Conference that took place on October 6th in Toronto, Peter Altobelli, vice president and general manager for Yardi Canada, joined a panel of experts for a session titled "New Technologies Across the Spectrum That Can Help Drive Your Business Forward and Provide Competition to the Landscape."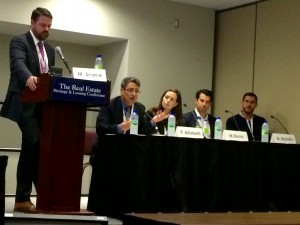 Altobelli and his co-panelists shared insights on new products coming to market and how breakthrough technologies are changing the industry and revolutionizing asset management. Also discussed were trends and opportunities for Canadian businesses to take into serious consideration.
The session was moderated by Michael Scace, partner at Ashlan Urban Realty, and joining Altobelli on the panel were Maggie Burns, vice president of real estate at Breather, Nick Romito, CEO and founder at VTS, and Brandon Weber, CEO and founder at Hightower.
On the topic of current technology innovation, Altobelli elaborated that in the last 10-15 years we have seen the launch of the smartphone and tablets, and with increasing reliance on those platforms, many businesses have responded to shifts in consumer demand and are adopting these impactful technologies to keep pace. Consumer demand is without a doubt driving innovation at the corporate level, and Canadian companies need to take note of this demand and make sure they are responding to their customers with the right tools and services.
However, Canadian businesses are known to be resistant to taking risks and are unlikely to be early adopters of any new technology, no matter how promising. But with an increase of American companies investing in and merging with Canadian companies, the business culture is changing. In the meantime, Altobelli sees the need for thought leaders to educate the industry, so Canadian companies can perform better and thrive by taking advantage of the newest tools on the market.
According to Altobelli, with regard to leveraging "Big Data" to drive portfolio strategy and maximize the profitability of buildings, it's all about connecting the various functions of your business and bringing all your data together for singular insight. As an example of this consolidation, looking at occupancy rates along with the number of people visiting each site and the number of applications received through online leasing, and then tying those numbers into maintenance management, tenant satisfaction ratings, vendor management and accounting, gives a company a holistic portfolio view. No more working in silos, and it's much easier to identify pain points and areas that need to be optimized. Altobelli emphasized that having a plan that takes into consideration your business drivers — and knowing your KPIs — is the first step toward using your data effectively to meet business goals.
Using emerging technology to attract "TAMI" (technology, advertising, media and information) tenants and fast-growing start-ups was discussed by the panel. These tenants want to do everything online: from finding a property through dynamic online listings, to online screening and electronically executing the lease agreement, and from making payments to submitting maintenance requests. These tenants are also unlikely to adhere to the standard 9-5 work schedule and demand 24/7 access to online services. Companies who are slow to offer online services or use full-featured marketing websites are unlikely to capture that desirable demographic.
Wrapping up the session was an overview of the major software and tech trends that are starting to take hold globally but haven't yet impacted the Canadian market. Altobelli pointed to mobility and integrated solutions as the latest game changing technologies, and is certain they will reshape real estate management in Canada moving forward.
Altobelli explained, "Gone are the days of having a multitude of point solutions that don't speak to each other. Now, data moves across integrated software systems and provides a single version of the truth." In our increasingly mobile world, Canadian companies are moving toward an exciting new chapter of real estate innovation — with benefits both for their customers and their bottom line.