Amenity Reset
By Joel Nelson on Nov 24, 2020 in News
Amenities can be the irresistible lure that persuades apartment searchers to choose one community over another. Rooftop pools, fitness suites, concierge package service, housekeeping, business centers and dog wash stations all have devotees. "Over the past several years the multifamily asset class has been engaged in an amenities war, with projects offering better and more luxurious add-ons in order to draw in residents," GlobeSt.com reported in April 2020.
But COVID-19 prompted some apartment residents to rethink what matters to them, which in turn forced owners and managers to reevaluate their offerings. "Everybody is really searching for creative solutions right now," Jeremy Brutus, co-founder of gym facility management company Urbn Play, told the New York Times in September. "I don't think amenities will ever go back to the way they were before," added Whitney Kraus of New York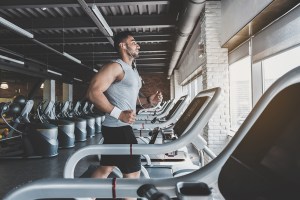 residential sales and leasing specialist Brown Harris Stevens Development.
Several of the most common changes are fairly unobtrusive, such as lounges repurposed as schools, limited capacity in common areas, clubhouses divided into separate rooms, movable couches, touchless key fobs, cordoned-off work and recreation areas, and mandatory reservations for facilities. Package delivery and storage services and HVAC upgrades to make interior air cleaner are also in greater demand, according to Rick Haughey, vice president of industry technology initiatives for the National Multifamily Housing Council.
Some communities have even swapped steel handles on barbells, weight machines and other equipment for copper, which is more expensive but harbors the coronavirus for a shorter time.
Apartment communities on the high end of the rental scale, such as New York's Madison House, can get even more creative with members-only primary care and emergency medical service offerings. Sollis Health, which services the building, says 50% of its business is house calls made by doctors and nurses to Madison House and 39 other luxury residential buildings. Other high-end amenities include telemedicine services, expedited COVID-19 test processing and personalized in-home treatment.
Remote work's lasting impact
If remote work remains the norm when the pandemic eases, long-term amenity changes might manifest most profoundly in the permanent melding of career and home lives. Residential properties might need to offer more communal work-from-home space, for example. Videoconference capabilities and other work-from-home tools might supersede traditional draws like swimming pools and pet-friendly policies as must-haves for renters.
When the pandemic is gone, "it will be kind of like having a fridge. You will have a home office," predicts Andres Escobar, a senior partner with interior designer Lemay + Escobar.
Another type of amenity, virtual leasing, grew during the pandemic and, some observers believe, might remain the preferred model even after strict social requirements are eased. "Residents have shown themselves to be willing to get online and lease an apartment sight unseen," John W. Gray, president of Charlotte, N.C., multifamily real estate developer and operator LMC Investments, said in March.
Other amenities that can help apartments stand out in a reshaped amenities market, reports Multi-Housing News, include contactless entry, discounts for food delivery services, guaranteed parking spaces to avoid crowded public transit, outdoor fitness opportunities, and Wi-Fi and streaming.
"When [residents] are connected, it will ultimately make a difference in retention later—it's one thing to walk away from your unit, but it's entirely different to feel like you're leaving your amenities, community, home and lifestyle," Phillip Boatwright, senior regional vice president of property management at Cleveland-based NRP Group, said in Multifamily Executive in February 2019. Up-to-date amenities can help property managers establish such a connection as the pandemic yields to an uncertain aftermath.
Yardi offers a full suite of contactless solutions for residential marketing, leasing, payments, procurement and more. Learn more.