A Door to Heaven
By Cutright Elizabeth on Feb 15, 2016 in News
When it opens to the public in summer 2016, the Mall of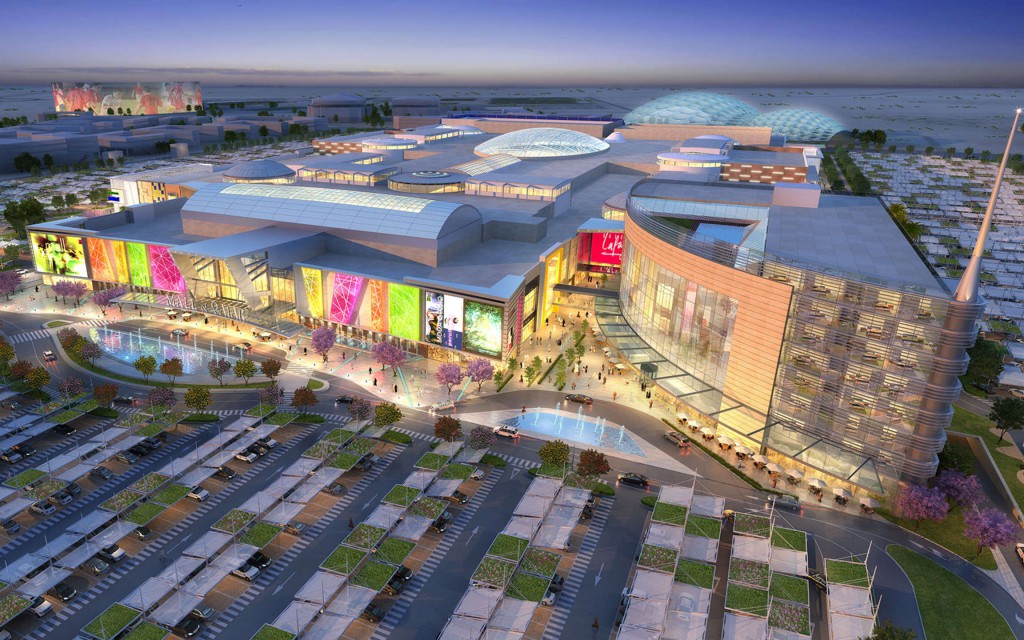 Qatar in Al-Rayyan will be a modern paradise smack dab in the in the middle of the Qatar desert.
With over 2,755,561 square feet of Gross Leasable Area, upon completion the Mall of Qatar will cater to shoppers' every whim. Massive in scale, the planned three-story structure will span the length of 50 soccer fields. Upon completion, visitors to the Mall of Qatar will be able to sample food from over 100 restaurants, buy products from over 500 stores and participate in a variety of unique entertainment experiences, including the largest IMAX Laser 3D projection system in the world.
Envisioned as a "sophisticated, urban-lifestyle market, the mall will be outfitted with vaulted glass ceilings, sidewalk cafes, and unique water features. A main feature of the project is the multi-level Family Entertainment Complex, which will include a 10-lane bowling alley and a 19-screen Cineplex. For fans of live performance, the mall's Festival Stage will host professional acts from around the world on a 360-degree, multi-lift, rotating stage outfitted with the latest sound and lighting technology.
As the mall's floor space spreads out across the desert, so do its recreational opportunities. A not-even-close-to-exhaustive list of additional amusements includes an Angry Birds theme park, a mini-roller coaster and a flight simulator. An indoor "edutainment" park called "Juniverse" will allow children to play at space exploration and firefighting. Older patrons can participate in "Escape the Room" challenges, where teams work together to unlock puzzles in a set amount of time.
Up to 7000 automobiles can be accommodated in the mall's parking lot, most under canopies designed to deflect and control the midday sun and bathe vehicles in merciful shade. For commuters without cars, sleek, modern metro trains from nearby Doha will speed silently along dedicated tracks, transporting thousands of guests to this desert oasis.
Concept photos of the project portray a surprisingly tidy collection of contemporary architectural elements and traditional designs. Alight with what appear to be digital marquees, the façade of the mall calls out to customers with glimpses of the treasures and multinational purveyors tucked inside. Curving along the edge of the mall sits a 5-star luxury hotel from the Curio Collection by Hilton. Off against the horizon sits the Ahmed bin Ali Stadium, host stadium for the 2022 FIFA World Cup – along with its neighbors, Education City and the Qatar National Convention Center.
Though there's no shortage of retail options in wealthy Qatar, the hope is that the mall's unique features and a multitude of diversions will woo consumers and dazzle world cup attendees.
"At the Mall of Qatar we are creating what we believe is a world-class shopping, leisure and entertainment experience that will prove a huge success," declares Shem Krey, Deputy Managing Director, Mall of Qatar in a press release announcing the project. "It will be a new lifestyle destination that will energise tourism and engage the consumer."
In December, the Mall of Qatar announced it would automate its accounting and property management with Yardi Voyager® 7S, the company's new mobile-enabled, tablet-compatible Software as a Service property management and accounting platform. Mall of Qatar will also implement Yardi Commercial LeasingPad™, a fully mobile solution that provides contact and prospect management with portfolio health analytics and business intelligence.
"Voyager is the best solution for managing a property as large and diversified as Mall of Qatar, and Yardi Commercial LeasingPad will give us complete real-time information on existing tenants and help us leverage opportunities to pursue new lease opportunities," said Shem Krey, managing director for Mall of Qatar.
"Our goal is to help our clients in the Middle East operate more efficiently with an end-to-end real estate platform and thereby also increasing profitability," said Neal Gemassmer, vice president of international for Yardi. "Mall of Qatar joins a growing portfolio of clients that centralise their data in the cloud to reduce overhead costs and increase flexibility and security."