Real Estate and EVs
By Yardi Blog Staff on Nov 30, 2022 in Global
Electric vehicles are heading towards real estate at speed and scale. With up to 300 million EVs on the roads by 2030, new business models are beginning to emerge. But for all the opportunities, there are also plenty of obstacles. Yardi's Bernie Devine and ESR's Dr. Michael De Jong-Douglas recently sat down to explore the possibilities.
Dr. De Jong-Douglas, ESR's Group Head of Customer Solutions & Partnerships, was the special guest on Yardi's Proptech Insights, hosted by Bernie Devine, Senior Regional Director at Yardi.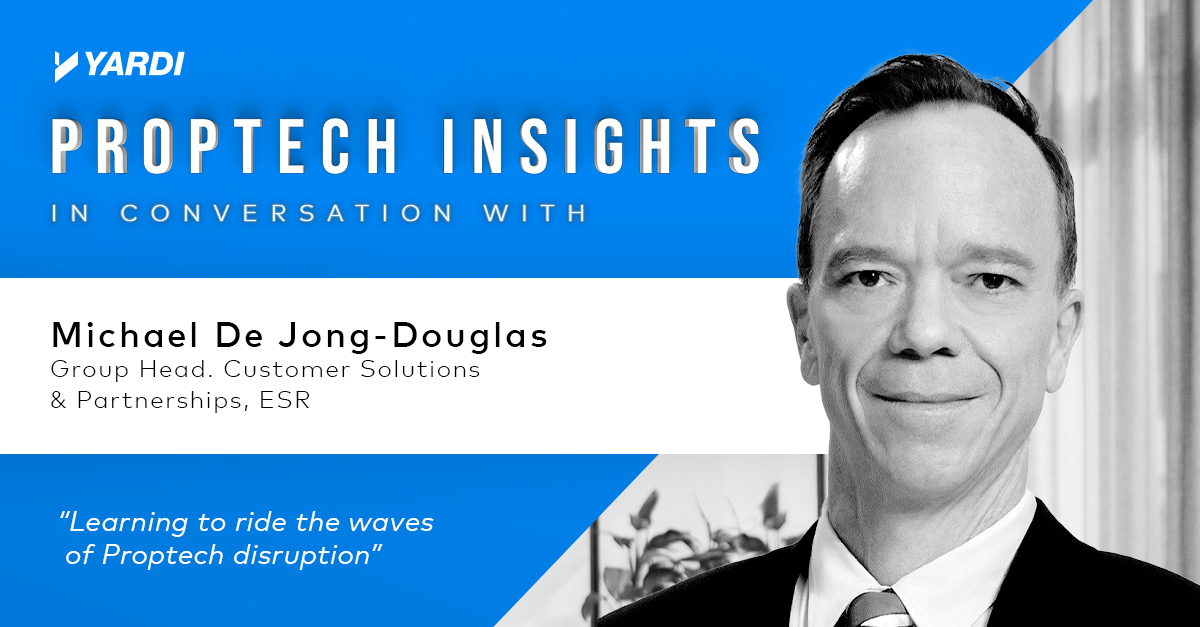 The International Energy Agency predicts that the number of electric vehicles on the roads – cars, vans, trucks, and buses – could reach 300 million by 2030.
Last year electric car sales took off, surpassing the 6.6 million mark despite supply chain bottlenecks and the ongoing challenges of Covid-19. This took the total number of electric cars on the road to 16.5 million.
The passenger vehicle market may be driving towards electrification at a rapid rate, but logistics vehicles – especially trucks travelling longer distances – are an entirely different proposition, the pair noted.
But many of the world's largest logistics companies have made commitments to electrify their fleets. Dr. De Jong-Douglas pointed to several 2030 commitments – DHL's 60% global EV target, DB Schenker's "emissions free" European footprint, Amazon's plan for 10,000 EV vans in Europe and Unilever's switch to EVs to cut their greenhouse gas emissions by 40-50% among them.
Meanwhile, nascent, regional logistics players across Asia Pacific have begun EV initiatives in various markets. These include Linfox, Coupang, Sagawa, Maersk, and JD.com. As Dr. De Jong-Douglas suggested, these illustrate "very real examples of companies in our own backyard doing pilot projects and making very strong public commitments to switch to EVs."
While the market is on the move, there are clear challenges ahead. For example, the issue of range anxiety is easier to overcome in denser urban environments than in geographically dispersed economies like Australia, Devine noted.
The uptake of EVs also varies across the region depending on the combination of "carrots" – incentives and subsidies – and "sticks" of regulation.
For real estate companies, a "chicken-and-egg" scenario has emerged. How do they decide when, and to what extent, to provide EV charging facilities in their sites, for both passenger cars and delivery trucks?
The challenge for asset owners is to roll out charging technology for customers today without getting "caught in one model" that compromises the opportunities tomorrow, Dr. De Jong-Douglas noted.
Certainly, the "interconnectivity" of energy efficient buildings, renewable energy and EV charging were emerging as a "combined package" for any customer focused on ESG and "circular" solutions.
But are fast, reliable charging stations the best solution? Or, Devine asked, could battery swaps become a thing? Are there other technologies ahead on the horizon?
Conveniently located charging stations that allow vehicles to 'top up' their charge many times throughout the day make sense for smaller delivery vehicles, the pair agreed. Shell has already begun reimagining its fuelling stations as "energy hubs" with the provision of coffee, snacks and communal areas to provide pleasant places for customers to relax while their EVs recharge.
ESR is in conversations with its customers "every single day.", Dr. De Jong-Douglas added, "and our customers are saying to us: We are doing pilot projects, so get ready."
Check out the latest episode of Yardi's Proptech Insights series or register for our next session!