Proptech Disruption
By Yardi Blog Staff on Jul 12, 2022 in Global
After Jack Fitzgerald stumbled across the term 'proptech' he spent a sleepless night burning the midnight oil or more accurately, draining the battery on his phone. The technology that had transformed other sectors of the economy was coming for real estate.
Fitzgerald, Hitachi's Director of Smart Cities and Real Estate Tech, recently sat down with Bernie Devine for the latest illuminating installment of the Yardi Proptech Insights series.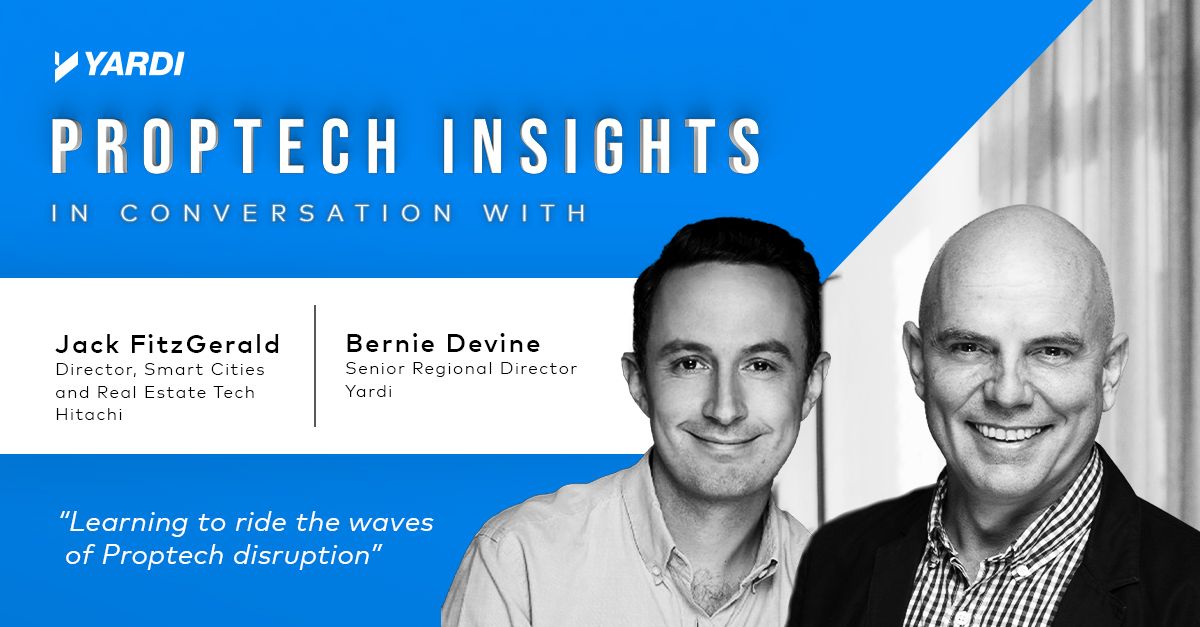 Fitzgerald has worn many hats. During his eight years with Lendlease, he oversaw the development of Singapore's Paya Lebar Quarter, played in the experimental sandpit as Lendlease's head of innovation for Asia and launched Propell Asia, Singapore's first proptech accelerator.
Late at night, he scoured the internet for information on proptech start-ups. From this he built Disrupt Property, a database on 800 companies that was eventually acquired by Unissu.
In 2020, he seized the opportunity to "change the future" with Hitachi and is now working with everything from AI to EVs, driverless trains to robots.
Technology has not yet delivered the seismic shifts seen in other sectors – but disruption is ahead, Fitzgerald warned.
The baby steps – digitising tasks once managed by spreadsheets – have been taken. Now, we are in the "early teenage awkward years" where buildings are getting smarter, but this is not obvious to the user. "The dream is that the building knows I'm arriving, the lifts are waiting for me, the latte is heating up, and the lights are turning on as I sit at my desk," Fitzgerald said. But this "frictionless experience" is still some years away.
But today's leading-edge technology is tomorrow's business-as-usual. As soon as tenants experience smart parking or destination lifts in one building, they expect it in all of them, Fitzgerald said.
This consumer demand for frictionless experiences is upending relationships between commercial real estate landlords and their tenants, Devine noted. B2B interactions are in the past; the most forward-looking landlords are focused on a B2C future.
As landlords build B2C relationships, a building is no longer bricks and mortar, Bernie observed. "A building is a device." This mentality allows landlords to unlock new revenue streams.
The old model of build it, hand over control to the tenants and then collect the rent, is "slowly being eroded," Fitzgerald added. When commercial real estate is consumer-driven rent will account for just a fraction of revenue.
Some landlords are taking a tiny commission when people order lunch through tenant apps, Fitgerald said. Smart carparking, EV charging and distributed energy generation are all areas where landlords can profit.
Tenant apps – currently considered an optional extra with low ROI – are natural extensions of the retail or hospitality loyalty platform. In time, they will allow landlords to offer their customers everything from discounted insurance to cheap WiFi.
What does the future look like?
"Proportion of rent as a part of total revenue will get smaller," Devine said. "It's not that rent will get smaller. It's just that other revenue streams are going to grow. The really successful real estate companies will figure out how to enable a service, how to deliver a service and how to bill for a service."
Now that's something to lose sleep over.
Click here to watch the recording of Yardi's Proptech Insights, with Bernie Devine and Jack Fitzgerald.