Net Zero Aspirations
By Yardi Blog Staff on Oct 26, 2022 in Global
When it comes to turning net zero aspirations into real world action, the devil is in the detail – and the only way to the detail is with data. This is just one of the key takeaways from the latest episode of Yardi Proptech Insights.
If proptech is about solving business problems, then one real estate's biggest problems is its carbon footprint. Real estate has a responsibility to decarbonise, as around 40% of the world's emissions come from buildings.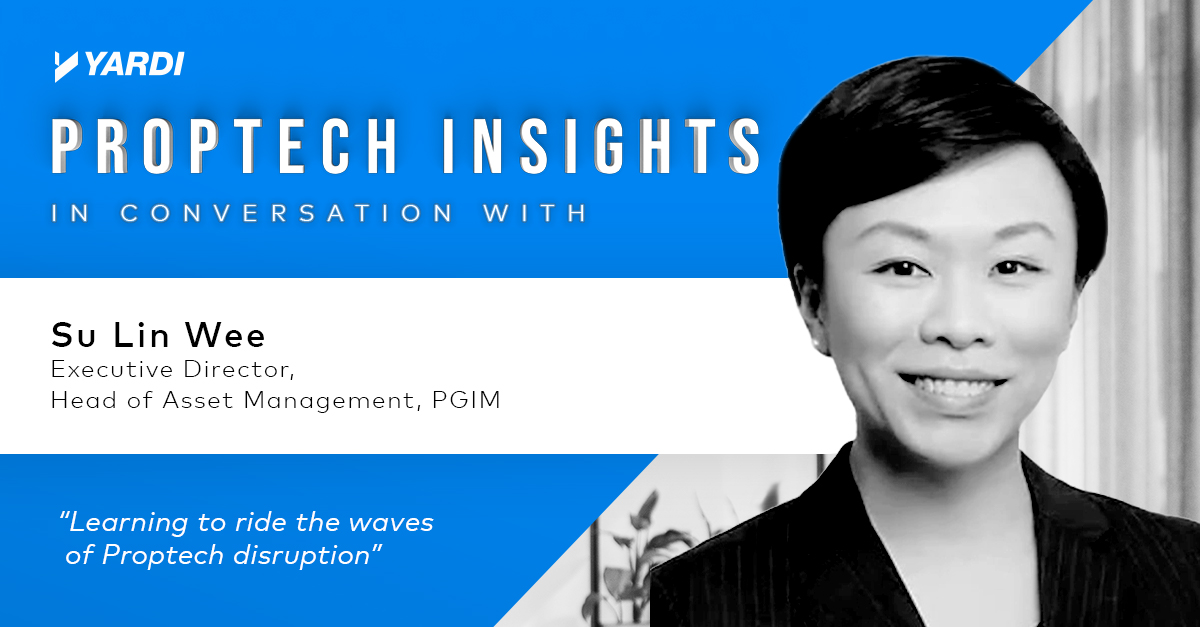 Many of the world's largest real estate companies have set net zero targets; S&P Global puts the figure at 43 percent. More than a fifth of the world's 2,000 biggest publicly traded firms – all of them corporate occupiers – have also set net zero targets and are scrutinising their real estate footprints.
Su Lin Wee, PGIM Real Estate's Head of Asset Management for Southeast Asia, recently joined host Bernie Devine, senior director, Yardi APAC, to share an investor's perspective on the power of proptech to transform net zero aspiration into action.
PGIM Real Estate, which has around US$7.9 billion of assets under management in six Asia Pacific countries, has tracked and reported annual carbon emissions reductions since 2008. In 2021, PGIM Real Estate set a net zero operations target by 2050, aligned with the Urban Land Institute's Greenprint Center for Building Performance Net Zero Carbon goal.
Setting a target is a laudable demonstration of leadership, Devine noted. But how do real estate companies separate the green from the greenwash?
"The devil is in the detail," Wee observed. Emissions reductions must be found at the "individual asset" level, which is why "asset management is the space to watch."
"Small incremental improvements" will add up to big impact, Wee added. "It will come down to the small multi-family project in Osaka, the logistics property in China. It all adds up. The sum of the parts will form the whole."
Su Lin pointed to one recent PGIM Real Estate project to understand the embodied carbon footprint of an existing asset in Singapore. "We had to estimate what the embodied carbon of the building was from Day One, the energy consumption from Day One, we had to measure the volume of all the materials… the work took a lot of time and required a lot of data."
Timely and reliable data must be at the heart of any net zero target, Bernie added. While some data points are within easy reach, others remain elusive.
When it comes to ESG – environment, social and governance – the "E of environment and energy is easily measured and managed," Devine observed. But measuring broader social and governance factors remain "quite challenging".
"Energy is clearly about money and connects to financial processes," Devine said. This makes it easier to capture data and automate process. "But connecting S and G to business ROI is much harder. This, in turn, makes it much harder to translate into process, and therefore automate."
The ESG challenge may be enormous. But one proptech idea "doesn't need to solve every problem in the value chain," Wee advised. So what are the best proptech solutions to zero in on net zero? In Wee's experience, proptech solutions that add the most value are those "which can be explained in less than 30 seconds,"
Check out the latest episode of Yardi's Proptech Insights series or register for our next session!