Aspire Expands
By Yardi Blog Staff on Jun 18, 2020 in Global
Yardi Aspire, a dynamic on-demand learning management platform is now available to Yardi clients in the Middle East.
Yardi Aspire, formerly known as Yardi eLearning, offers online courses and live webinars in areas ranging from software skills and compliance to company policies and custom career development. By hosting all of an organization's training-related course content and documents in a centralized platform, Aspire reduces the time needed to create, maintain and administer courses. Automated reporting functionality tracks learning progress and organizational trends.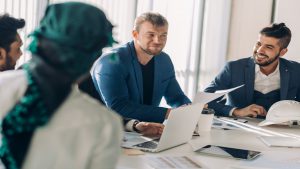 Recognizing the critical need for virtual training and the unique challenges faced by learners who are practicing social distancing, the Yardi Middle East support team and the Yardi Aspire team have worked to deliver creative learning options developed specifically for our clients in the Middle East. We've packaged the training style and product expertise of Yardi's Middle East software support team into interactive, mobile-friendly courses in the Yardi Aspire Learning Management Solution.
We are excited to announce the release of a new Middle East collection of online learning courses that ready to be delivered directly to you and your employees. We've taken the liberty of bundling our courses into role-specific learning plans that deliver effective training to the right individuals.
"Aspire offers property managers a budget-friendly way to establish an immersive, intuitive training program very quickly and easily," according to Neal Gemassmer, vice president of international for Yardi. "The platform's role-based learning plans put the right topics in the right hands. The convenience and efficiency of Aspire advance employee career development and therefore organizational success."
This new partnership was conceived with one specific goal in mind- to assist clients like you with essential software training during a time when live classroom training is simply not an option. This is just one of many ways that friends at Yardi are working together for you.
You now have two options for accessing the Middle East course collection. If you want to create and administer your own training program, contact your Yardi sales representative to license the Aspire Learning Management solution. If you want to leave the administration to us and receive free access to the courses for a limited time, contact your Support representative to request student access for your employees in the Yardi Training Middle East University.
All courses in the Middle East collection are made available, free of charge through December 31, 2020 to all learners enrolled in the Yardi Middle East Training University. Contact your Yardi representative to secure accounts for your team to start learning today!
Yardi is offering a series of special online learning opportunities that help Yardi clients in the Middle East operate efficiently in a social distancing environment.