Yardi Matrix Multifamily Webinar
By Leah Etling on Nov 20, 2022 in Matrix
Yardi Matrix experts Jeff Adler and Paul Fiorilla presented their final 2022 outlook for the multifamily sector during a Nov. 16 webinar. As with most current economic forecasts, it's a challenging picture despite recent record-setting performance and consistently strong fundamentals.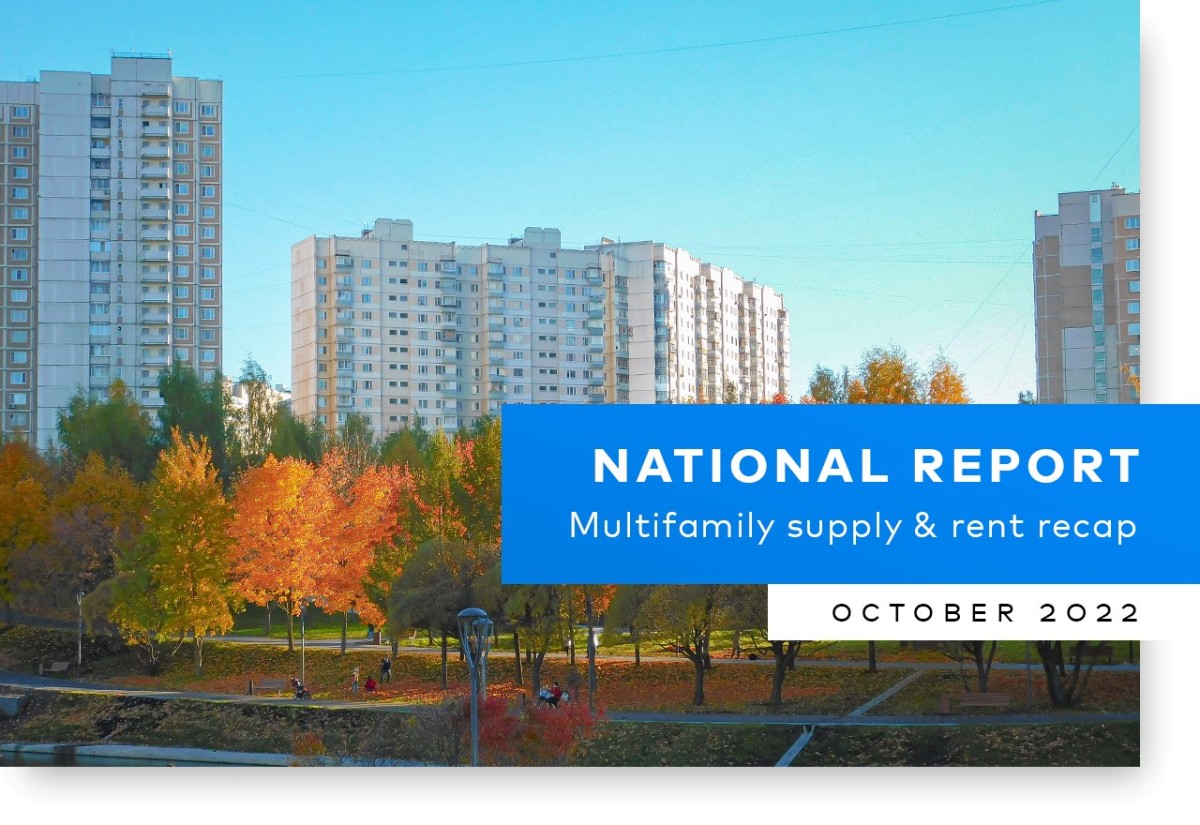 The presentation materials and webinar recording are now available for download.
According to the latest National Multifamily Report, average multifamily asking rents showed a slight increase in October, despite weaker demand and dipping year-over-year (YOY) growth.
"The pandemic recovery has been rapid, it has been V-shaped, but now it is indeed cooling. We're really on the downturn, is what I would tell you. The U.S. economy is slowing, the yield curve has inverted for all intents and purposes," said Adler, vice president of Yardi Matrix.
"When it comes to the U.S. multifamily industry, the domestic migration has had a significant impact on demand, but household formations have had even a larger impact," Adler said. Demographic trends are expected to support continued housing demand.
Rising interest rates, however, will preclude many would-be buyers from home purchases in the near future. First-time homebuyers are being frozen out of the market, according to the National Association of Realtors, and will be more likely to remain in rentals.
"The capital markets are really what's the problem, mortgage rates are up to 6 percent and above, and valuations have adjusted downward," said Adler, off as much as 25 percent from a peak in January 2022. However, U.S. multifamily continues to be a standout sector among all asset types.
"Declining homeownership will be a bit of a tailwind (for multifamily)," as long as household formation holds up, Adler said. "Fundamentals have been great, but they are decelerating."
U.S. asking rents increased $3 in October to $1,727. Year-over-year growth fell to 8.2 percent, the lowest level since the summer of 2021 and down from its 15.3 percent peak in the first quarter.
The single-family rental market is also cooling off. The average U.S. asking rent was unchanged at $2,088 in October, while the YOY increase fell by 160 basis points to 6.6 percent.
"SFR/BTR fundamentals are strong, but they're also decelerating, very similar to multifamily," Adler said. And with a difficult construction financing environment, limited new supply is expected through 2026. This could exacerbate the U.S. housing supply shortage, pushing it out through the next decade.
As far as an anticipated recession, that's currently very likely by the fourth quarter of 2023, according to experts.
"Essentially we're on a glide path to the next recession, which is probably one of the most well forecasted recessions I've seen in a while," Adler observed.
Learn more about Yardi Matrix' wide variety of commercial real estate reports and resources.