Weak Demand Hurts Self Storage
By Leah Etling on Aug 24, 2023 in Matrix
Self storage performance slumped in the second quarter of 2023, typically the strongest quarter, due to weak demand. That was among the top takeaways from a Thursday webinar hosted by industry leading data provider Yardi Matrix.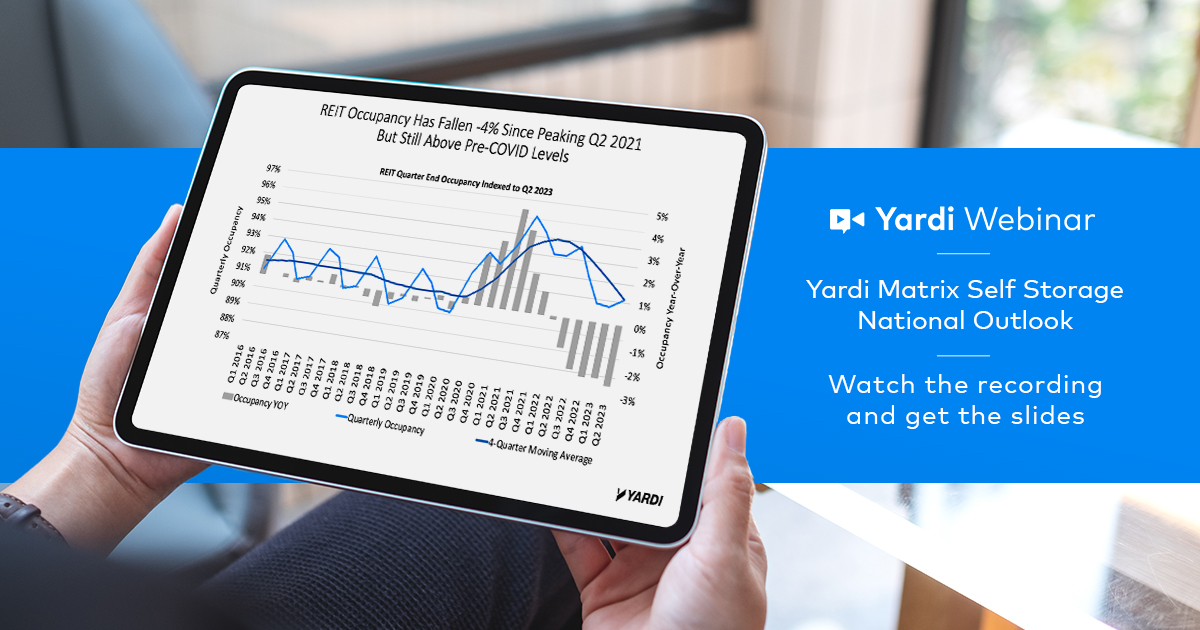 You can view the webinar recording and presentation materials here.
Among other key takeaways for the sector:
Street rate growth continues to decelerate, as same store rates were down -4.6 percent in July
One bright spot: operators were able to grow revenue by increasing existing customer rents (ECRI)
The amount of new supply under construction Is moderating and likely won't return to normal until 2025-2027
Investment activity is drastically reduced, with two notable exceptions (read on for details)
"We're in a kind of a 2017-2019 kind of world, where revenue growth is really off the back of ECRIs versus street rents," said Jeff Adler, vice president of Yardi Matrix, during the webinar. Reasons that demand has dropped included the challenging single family real estate market, with interest rates for new purchases around 7 percent, and diminished mobility of American households post-pandemic.
"Lower street rates are a result of weak move-in activity, with average REIT occupancy in Q2 2023 down 400 basis points from its all-time peak in Q2 2021," states the latest self storage report.
In July, overall national street rates (all unit sizes and types combined) dropped $1 to $141, down 0.7 percent month-over-month. Historically, rate growth is positive in July, averaging a sequential increase of 0.8 percent in the past seven years.
While an anticipated recession has yet to fully materialize, Adler still expects that one will be in place by the end of the year, due to a lag time between Federal Reserve actions and the ultimate impact on the real economy.
"We're still in this period of time where you're seeing strong economic growth, but we are seeing the beginning of the signs of a slowing trend," Adler said.
Self storage demand has historically been resilient, coming from a variety of sources, and growth rebounds quickly following a downturn due to month-to-month lease terms and flexible customer rate increase programs.
But investor increased in the sector has also taken a hit in 2023, with two notable exceptions. Extra Space merged with competitor Life Storage in July. The combined company is now the largest storage operator in the country (based on the number of self-storage locations) with over 3,500 locations, approximately 270 million square feet of rentable storage space, and more than two million customers.
Public Storage also announced last month that it has entered an agreement to acquire Simply Self Storage for $2.2 billion. According to the announcement: "The portfolio comprises 127 wholly-owned properties and 9 million net rentable square feet that are geographically diversified across 18 states and located in markets with population growth that has been approximately double the national average since 2018."
Aside from those significant moves, sales and M&A activity have plummeted, said Tyson Huebner, director of institutional research for Yardi Matrix.
"It should be no surprise that transaction volume thus far this year has really fallen off the cliff. The number of properties sold in the first half of 2023, which doesn't include those two portfolios, was down 56.6% from the first half of 2022," Huebner said.
Gain additional insights on self storage and the economy by checking out the entire webinar.