Rents Gain Again
By Leah Etling on Feb 11, 2022 in Matrix
Multifamily asking rent gains continued in January, rising $8 to a U.S. average of $1,604, according to the latest Yardi Matrix Multifamily National Report.
The latest gain defied normal seasonal expectations and continued a trend established last year, a historic period for multifamily asking rent growth. Year-over-year, rents increased 13.9 percent.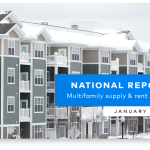 While rents are unlikely to remain in that growth range throughout 2022, January's performance is a sign that demand remains healthy. Some 460,000 multifamily units were absorbed in 2021, according to Yardi® Matrix data, more than double the previous year and more than 50 percent above the previous annual high.
Absorption in 2021 was led by Dallas and Houston. Five of the next six highest performers were gateway metros Miami, New York, Chicago, Washington and Los Angeles, all of which absorbed some 20,000 units or more.
Freddie Mac's 2022 multifamily outlook sums up the market: "The strong economic conditions along with unprecedented levels of demand for multifamily housing have combined to create robust apartment market conditions in 2021," the report said. "While there are still uncertainties, such as increasing inflation or more transmissible variants of the COVID-19 virus … the multifamily market is expected to be on solid ground in the short term."
Learn more in the latest Yardi Matrix Multifamily National Report.