A software solution for residential and commercial automates gathering and analysis of portfolio consumption data essential to energy reporting and compliance
SANTA BARBARA, Calif., Mar. 2, 2023 – With corporate ESG (environmental, social and governance) standards and investment risk increasingly under scrutiny, property owners can use Yardi® ESG to solve the common challenges around data collection, aggregation and GHG (greenhouse gas) reporting.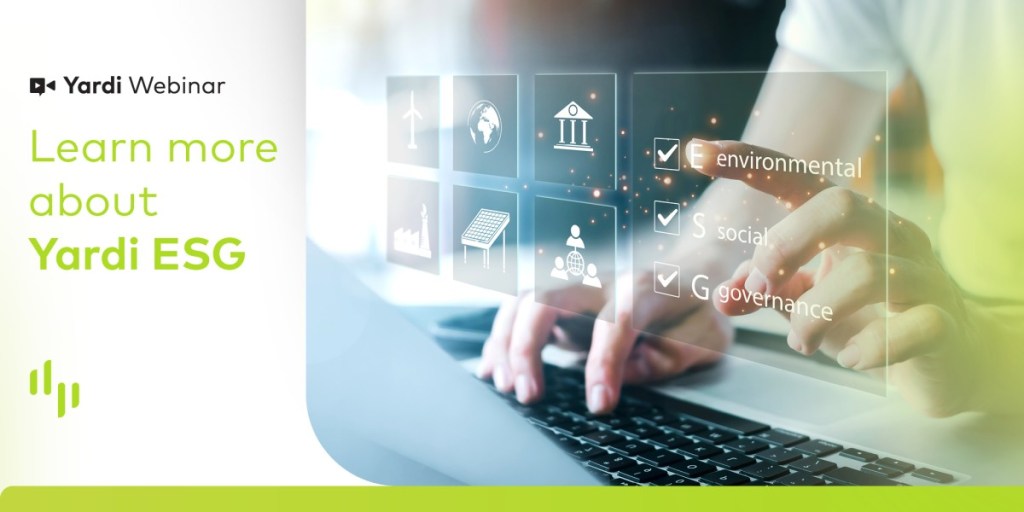 Yardi ESG is part of Yardi's residential and commercial suites for managing energy in real estate. The ESG offering includes green energy procurement, 100% whole-building energy, water and waste data aggregation, reporting to ENERGY STAR® and GRESB, and products to improve energy efficiency and reduce energy usage in buildings. Combining Yardi ESG with a single connected property management solution provides owners and managers with a comprehensive approach to energy management that streamlines processes and recovers costs.
Yardi uses a tiered approach to automate the time-consuming aggregation, analysis and reporting of whole-building data by getting the data from utility invoices and providers, using meter systems at the property and from resident and tenant billing. Yardi ESG also eliminates the manual tasks involved in compliance reporting for ENERGY STAR certifications, successful ASHRAE Level 2 audits, GRESB reports and energy-oriented financial incentives ("green financing").
"With property occupants, investors and regulators attaching more importance to ESG in 2023, having a platform that can manage all aspects of energy performance and reporting is vital," said Joe Consolo, industry principal for Yardi's energy services. "The energy suites have helped hundreds of our clients reduce energy usage, save money on consumption and equipment maintenance, automate benchmarking and more easily meet their ESG reporting obligations."
Ready to learn more about how Yardi ESG can improve energy performance and reporting across your portfolio? View a short webinar on Yardi ESG.
About Yardi
Yardi® develops industry-leading software for all types and sizes of real estate companies across the world. With over 8,500 employees, Yardi is working with our clients to drive significant innovation in the real estate industry. For more information on how Yardi is Energized for Tomorrow, visit yardi.com.