Text payments, Instagram integration and corporate search pages help attract leads and retain residents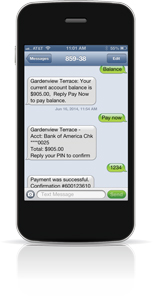 SANTA BARBARA, CALIF., Oct. 23, 2014 – New capabilities for text payments, Instagram integration and advanced corporate apartment searches available through RentCafe™ can help multifamily property managers attract more leads and boost resident retention. RentCafe is part of the Yardi Marketing Suite™ that includes solutions designed to help multifamily properties expand their marketing reach.
RentCafe now offers residents a convenient and secure mobile option to review balances and make payments via Short Message Service (SMS) text messaging. This feature supplies immediate confirmation to users paying from a bank account with a debit card or credit card. Rent payments are automatically entered into Yardi Voyager®, saving property staff time.
"Today's resident wants everything to be quick and easy, and it doesn't get much quicker or easier than texting your rent payment," said Patrick Lawler, director of product development for RentCafe. "By enabling text payments, apartment managers can implement the kind of convenience their residents truly appreciate—and that leads to improved retention."
The Instagram feature integrates images from the popular photo-sharing social media platform into a dynamic display on property marketing websites, keeping content fresh for site visitors and search engines. These photos can be selected from a designated Instagram feed and curated by hashtag to support community initiatives and encourage engagement. RentCafe is the only apartment marketing platform that includes Instagram integration. Training for this and other social media tools, including Facebook and Twitter, is available to all RentCafe clients.
Buckingham Companies, an Indiana-based real estate company that manages more than 90 properties nationwide, is an early adopter of the RentCafe Instagram feature. "We use Instagram to expose our communities to a wider audience, communicate our brand and the type of lifestyle we offer, and ultimately drive traffic to our property websites," said Nicole Crosby, senior marketing manager for Buckingham Companies.
Yardi also added increased flexibility and enriched design components to corporate apartment search pages powered by RentCafe. Companies can add interactive maps, highlight featured properties and choose the layout of property detail pages. These elements coordinate with clients' existing corporate websites and provide a content-rich digital presence that improves SEO, drives traffic and converts leads.
"These innovative features will help multifamily businesses compete and succeed by delivering outstanding prospect and resident services," said Esther Bonardi, industry principal of marketing solutions at Yardi. "It is exciting to watch RentCafe evolve to best serve the needs of our clients in today's rapidly changing digital marketplace. RentCafe is  revolutionizing how our clients attract and retain residents."
About Buckingham Companies
Founded in 1984, Buckingham is a full service, fully integrated, real estate company that includes the development, acquisition, management and construction of a wide range of property types including multifamily, student housing and mixed-use communities. Buckingham manages nearly $1 billion of real estate assets for its own account, clients and institutional partners. Buckingham has managed more than 90 properties consisting of nearly 20 million square-feet of property and approximately 15,000 rental units nationwide. Additionally, Buckingham Foundation annually supports more than 45 nonprofit and civic organizations through philanthropic outreach in the areas of affordable housing, community and economic development, and arts and culture. For more information, visit Buckingham-Co.com.
About Yardi
Now in its fourth decade, Yardi® is committed to the design, development and support of software for real estate investment management and property management. With the Yardi Multifamily Suite™, Yardi Commercial Suite™, Yardi Investment Suite™ and Yardi Orion™ Business Intelligence, the Yardi Voyager® platform is a complete real estate management solution. It includes operations, accounting and ancillary processes and services with portfolio-wide business intelligence and platform-wide mobility. Yardi is based in Santa Barbara, Calif., and serves clients worldwide from offices in North America, Asia, Australia, Europe and the Middle East. For more information, visit Yardi.com.