Too much work to do and not enough time in the day? Take a little bit of time now to automate the administration of your eLearning university so you can save a lot of time later. In the user administration workflow below, we can automate every step to save time and money, while making your life easier.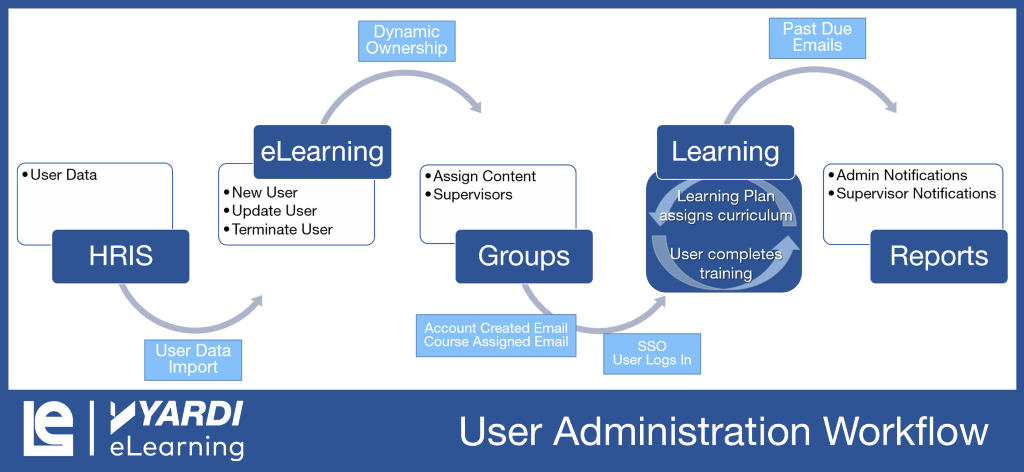 HR Information System Integration (HRIS)
By leveraging the Human Resources Information your company may already have, we can setup a date feed using our ETL tool to pull in user account changes like new hires, terminations, name changes, promotions, and more. No more waiting for paperwork from HR or IT, or worrying about spelling errors while manually creating users.
Dynamic Ownership
Now that we've got our new and updated accounts in the system, automatically send training materials based on job title. Dynamic ownership rules automatically filter users to the correct groups based on the user fields imported into the system, whether by manually adding them to a user screen or by data feed. Need to give all your maintenance techs a course on Maintenance Mobile? Assign the content to a group and set up a rule for all users with the job title of "Maintenance Tech" to be added to that group. All current and future users will get that training content!
Learning Plans
Learning Plans allow us to schedule out an entire training plan that doles out content over time. Instead of waiting until a user has completed their basic courses to give them more, set up a multi-phase learning plan that unlocks each step as the previous step is completed.
Group Supervisors
Are you still manually running reports for your supervisors? With our Group Supervisor permission set and Supervisor Notifications, we can schedule reports to automatically send on a regular basis. They'll automatically be filtered to only contain info on the users they manage. Supervisors can even assign new content to their users and validate coursework.
If you're interested in setting up any of these time-saving features, submit a case in Client Central, or contact your eLearning Account Manager.