Based on the input of employees, company ranks in Top 100 of favorite U.S. large workplaces
Santa Barbara, Calif. (Jan. 12, 2023) — Yardi® has been honored with a Glassdoor Employees' Choice Award for the third time as one of the Best Places to Work in 2023.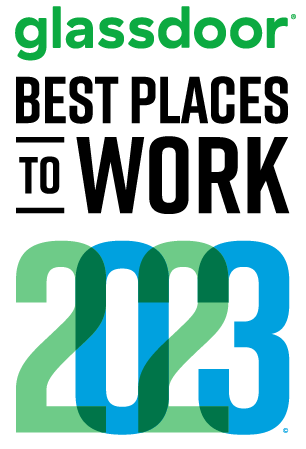 The Glassdoor Employees' Choice Award is based solely on the input of employees, who voluntarily provide anonymous feedback by completing a review about their job, work environment and employer on Glassdoor, the worldwide leader on insights about jobs and companies.
"Taking care of our employees and offering opportunities to contribute to our clients' success are guiding principles at Yardi," said Anant Yardi, the company's president and founder. "We are honored to receive this prestigious award again from Glassdoor, and we are grateful for the supportive culture that has been fostered at all levels within our organization."
For 2023, Yardi is No. 76 out of 100 companies on Glassdoor's Best Places to Work US Large list with a 4.4 rating. The company was previously honored in 2020 and 2018.
"The past year brought extreme highs and lows for job seekers and employees, but despite an increasingly uncertain job market, Glassdoor data shows there are still companies hyper-focused on creating outstanding employee experiences," said Christian Sutherland-Wong, Glassdoor Chief Executive Officer. "It's encouraging to see companies doubling down on employee mental health and wellbeing, diversity and inclusion, competitive benefits and flexible work environments as we head into 2023. I sincerely congratulate all of the Best Places to Work winners."
Glassdoor's Best Places to Work winners were determined using company reviews shared by U.S.-based employees between October 19, 2021 and October 17, 2022. During the year-long eligibility period, employers considered for the large list must have received at least 75 ratings for each of Glassdoor's nine workplace attributes (overall company rating, career opportunities, compensation and benefits, culture and values, diversity and inclusion, senior management, work-life balance, recommend to a friend and six-month business outlook) . The final list is compiled using Glassdoor's proprietary algorithm, led by its Economic Research Team, and considers quantity, quality and consistency of reviews. Complete awards methodology can be found here.
For the complete list of the Glassdoor Best Places to Work winners in 2023, please visit: gldr.co/BPTW
About Yardi
Yardi® develops industry-leading software for all types and sizes of real estate companies across the world. With over 8,000 employees, Yardi is working with our clients to drive significant innovation in the real estate industry. For more information on how Yardi is Energized for Tomorrow, visit yardi.com.
About Glassdoor
Glassdoor is revolutionizing how people everywhere find jobs and companies they love by providing deeper workplace transparency. Professionals turn to Glassdoor to research ratings, reviews, salaries and more at millions of employers, and to Fishbowl by Glassdoor to engage in candid workplace conversations. Companies use Glassdoor to post jobs and attract talent through employer branding and employee insights products. Glassdoor is a subsidiary of Recruit Holdings, a leading global technology company, and a part of its fast-growing HR Technology business unit. For more information, visit www.glassdoor.com.