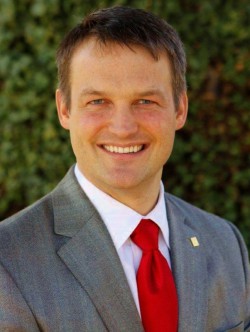 Broker and manager anticipates improving client service with expanded functionality
SANTA BARBARA, CALIF., July 28, 2015 – Real estate broker and manager NAI Benchmark will deliver a higher level of service to owners and tenants of its commercial buildings with new features available from Yardi Voyager® 7S, its new property management and accounting system.
"Voyager will enable a better client experience with expanded offerings that we didn't previously have and that only a best-in-class platform can provide.  For example, our clients want a greater variety of custom financial reports, and Voyager delivers that," said Ryan Swehla, principal at NAI Benchmark.  "Also, Voyager's mobile access will allow our property managers to record comments about properties on the road, immediately, without having to return to the office."
He added, "Another reason we are very excited about moving to Voyager 7S is its scalability.  As we seek to leverage our status as the leading commercial brokerage firm in Modesto and surrounding areas, we look forward to using Voyager to help us greatly expand our business while maintaining a high level of service to our clients."
NAI Benchmark anticipates completing its implementation of Yardi Voyager 7S, which works with all Internet browsers and is tablet-compatible, in late summer of 2015.
"Yardi is pleased that NAI Benchmark will join more than 1,600 other Voyager 7S clients who are benefiting from the scalability, streamlined lease management, automated processes and enhanced customer service that only a true full business platform can provide," said Terri Dowen, senior vice president of sales for Yardi.
About NAI Benchmark
NAI Benchmark of Modesto, Calif., is the leading independent commercial real estate brokerage and property management firm in California's Central Valley. NAI currently manages a diverse portfolio of commercial property and has brokered more than $150 million in transactions since its founding in 2009. NAI Benchmark is affiliated with NAI Global, the fourth largest commercial real estate services firm worldwide.  For more information, visit www.naibenchmark.com.
About Yardi
Now in its fourth decade, Yardi® is committed to the design, development and support of software for real estate investment management and property management. With the Yardi Commercial Suite™, the Yardi Multifamily Suite™, Yardi Investment Suite™ and Yardi Orion™ Business Intelligence, the Yardi Voyager® platform is a complete real estate management solution. It includes operations, accounting and ancillary processes and services with portfolio-wide business intelligence and platform-wide mobility. Yardi is based in Santa Barbara, Calif., and serves clients worldwide from offices in North America, Asia, Australia, Europe and the Middle East. For more information, visit www.yardi.com.