Google Home
By Anca Gagiuc on Jun 3, 2016 in Technology
The latest Google I/O Developer Conference introduced Google Home, a compact Wi-Fi-connected speaker that'll allow you to talk to your house and the internet.
Virtual assistants powered by artificial intelligence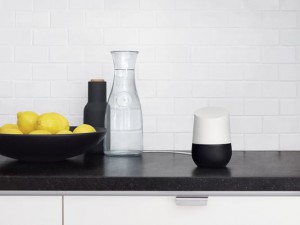 are no longer a new thing, in fact, the niche has become the new battleground for consumer technology. Apple's Siri, Microsoft's Cortana and Amazon's Echo Alexa voice agent are Google Home's direct competitors. It seems Google wants to make up for the earlier misses on instant messaging and social media and came up with this. And since Google's conversational assistant is similar to Cortana and Siri, it will be implemented in phones and wearables too.
Google Home is a small, cylinder-shaped gadget with far-field microphones and speakers, that's always listening for your questions and commands. The speaker bows out a bit and overall has a cute appearance. Its modular case is customizable, allowing to choose different base shells to match the environment. It also flaunts some LED lights that seem to dance a bit to show that it's working. Behind it is executive Mario Quieroz, VP of product management and the man who launched Google's Chromecast. The Google Home is his next act.
The new member of the Google family is not portable, but that turns out good for the speaker-feature as Quieroz claims that it "really fills the room," having "strong bass and clear highs"; this feature sounds reassuring because one of the main cases Google is foreseeing for it is listening to music. Furthermore, Home is designed with multiple rooms and speakers in mind from the very beginning, meaning that it supports multi room playback. Due to the fact that it uses the basic Cast standard, it uses the same technique as Google Cast Audio—you can talk to any speaker and tell it to play music on other speakers. One small downsize is the fact that at first, Google Home won't support multiple Google accounts, but the company says that will change in time.
Since it's a Google product, the Home is able to ask/answer Google questions. This is where Queiroz says that the company put a lot of time and effort into thinking about how Google Home should respond to queries. Thus, its responses will be optimized for audio, giving just enough information without droning too long. Of course, it didn't take long for questions to arise regarding privacy, disclosures and the quality of the information shared. As with any virtual assistant, the more information a company has about the user's habits, interests, purchases and opinions, the better its agent can serve. But is it safe?
Besides streaming and answering questions, Google Home will play nicely with the home's smart lights, thermostats and locks, including the Nest Protect Smoke Alarm and security camera. Also, third-party integration is coming later this year, with apps including Spotify, Open Table, Strava, NPR One, GrubHub already listed as future partners.
Google Home will be available later this year, no words yet on pricing and availability.