Yardi's digital marketing agency earns accolades for client websites, SEO strategy
SANTA BARBARA, Calif., May 10, 2023 — REACH by RentCafe® has won three platinum Hermes Creative Awards for work done on behalf of its clients: John M. Corcoran & Co., MEB Management Services and PRG Real Estate. REACH is a digital marketing agency that offers creative, search and strategic marketing services to multifamily real estate brands.
The Hermes Creative Awards, administered by the Association of Marketing and Communication Professionals (AMCP), is an international competition honoring creative professionals in traditional and emerging media. The awards honor outstanding work across industries, ranging from individual communicators and independent agencies to media conglomerates and Fortune 500 companies.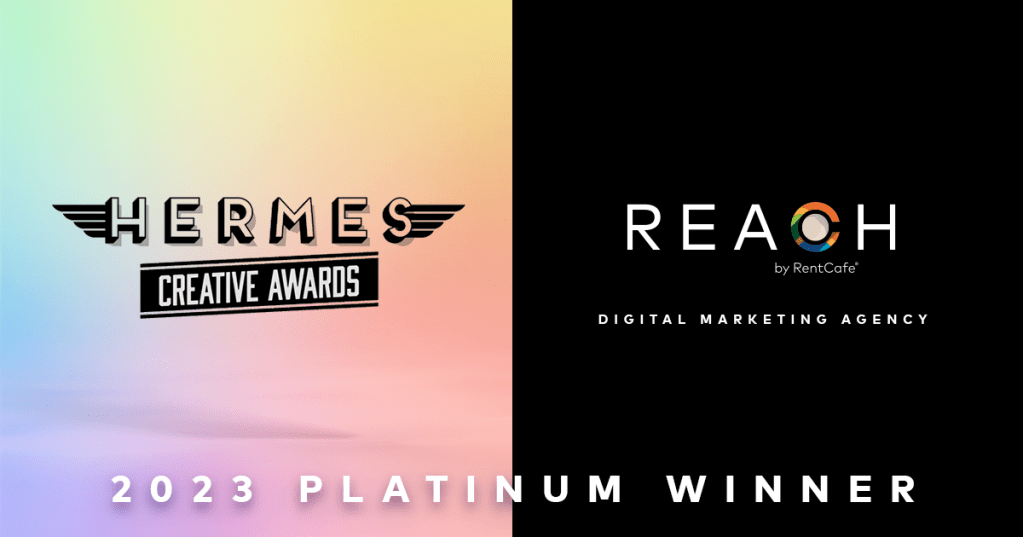 The award-winning REACH entries include two property websites that won the website design category and one strategic campaign that won the search engine optimization category.
Platinum Award: Union 346 for Website Design
John M. Corcoran & Co. needed a website for a new property under construction. REACH created a fully featured, accessible design that incorporates graphic elements from complementary agencies to create an enjoyable user experience for renters. The website showcases the local area and delivers incredible results. Multiple renters have leased apartments sight unseen.
Platinum Award: Solstice Living for Website Design
The REACH design team curated original art from creators Vic Von S, Elisa Ng and Preview 3D. These digital assets provided inspiration to create a visually interesting and high functioning site. The unique artistry sets them apart from competitors, while the engaging features deliver the self-service functionality that modern renters expect.
See the Solstice Living entry.
Platinum Award: SEO Campaign for PRG Real Estate
REACH partnered with this client to put an SEO strategy in place that decreased reliance on high-cost marketing sources, lowered spend and increased returns. In just three months, this strategy delivered more than 450 leases at a cost per lease of less than $30, generating $7 million in net rental income for PRG Real Estate.
See the PRG Real Estate entry.
Esther Bonardi, vice president of REACH by RentCafe, shared her excitement for the win on behalf of the agency. "We're proud to have delivered winning outcomes. This significant achievement is a triumph for our clients and our agency team. It celebrates a combination of creative design and results-driven marketing, something that can only be achieved through true partnership, innovation and collaboration."
See how you can master the art and science of marketing with help from an award-winning agency: reachbyrentcafe.com
About REACH by RentCafe
Reach your audience, goals and potential with a full-service digital marketing agency for property management businesses. REACH by RentCafe® certified experts are ready to help you create a winning web presence that drives conversions with complete transparency. Our services include website development, SEO, PPC, social media, reputation management and more. Discover what's possible: reachbyrentcafe.com