Yardi RENTmaximizer Market Analysis
By Yardi Blog Staff on Mar 1, 2015 in Uncategorized
In response to our clients' needs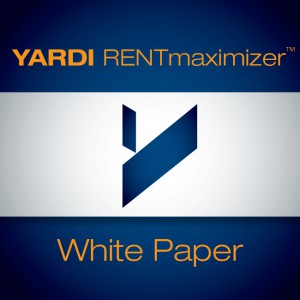 and the market's demand for a transparent rental pricing and revenue management system, we developed Yardi RENTmaximizer and introduced it to clients in January 2011. While it takes time for any new product to gain wider market acceptance, Yardi RENTmaximizer was quickly adopted by Yardi clients from the beginning, and its adoption rate continues to grow exponentially.
In the summer of 2013, Yardi acquired Pierce-Eislen, a leading multifamily market intelligence firm specializing in property ownership information, sales history information, and property valuation for acquisition and disposition of properties. As one element of its valuation reporting, Pierce-Eislen blind-shops more than 9.2 million units three times per year. After the Pierce-Eislen acquisition, our software development team began to integrate this unit type-level data into Yardi RENTmaximizer.
We realized that we could use this data to compare RENTmaximizer properties' performance against their market, the submarket, and submarket-equivalent properties. In May 2014, we analyzed properties on RENTmaximizer from the end of 2012 through April 2014 and compared the aggregate performance of this "same store sales" population against the market.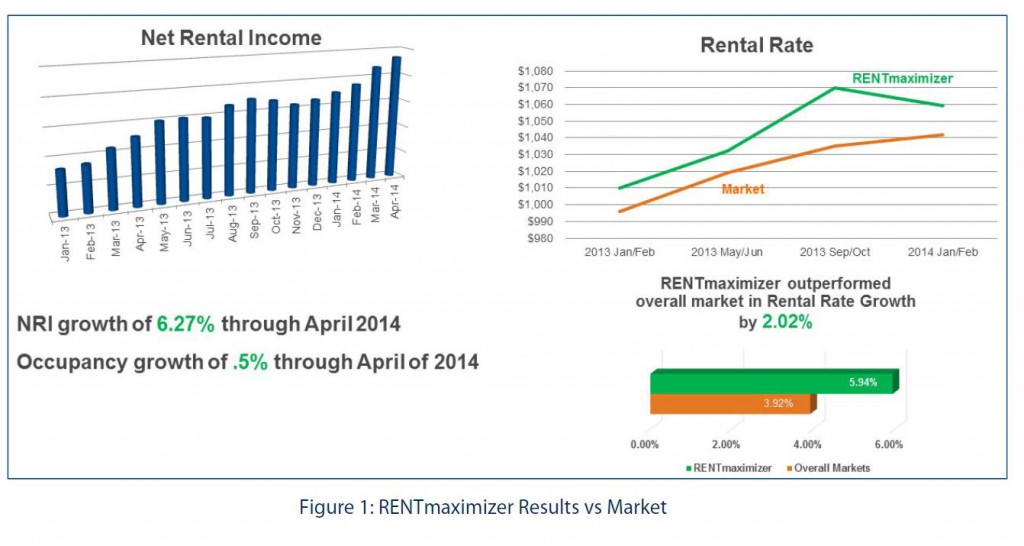 Figure 1 above shows multiple results of our analysis. The chart labeled "Rental Rate" illustrates the performance of RENTmaximizer properties against their markets by period. At the end of April 2014, RENTmaximizer properties saw rental rates over 2% above the market, which also includes properties using other revenue management software. The markets grew at a combined rate of 3.9%, while RENTmaximizer properties outperformed the market and grew at nearly 6%.
Even more significantly, the chart at the upper left shows that RENTmaximizer properties achieved a Net Rental Income (NRI) increase close to 6.3%. While rates improved across the board in the summer of 2013, RENTmaximizer properties achieved significant growth over market, resulting in an impactful NRI increase. In addition to increasing rental income, the RENTmaximizer properties also improved occupancy rates by 0.5%.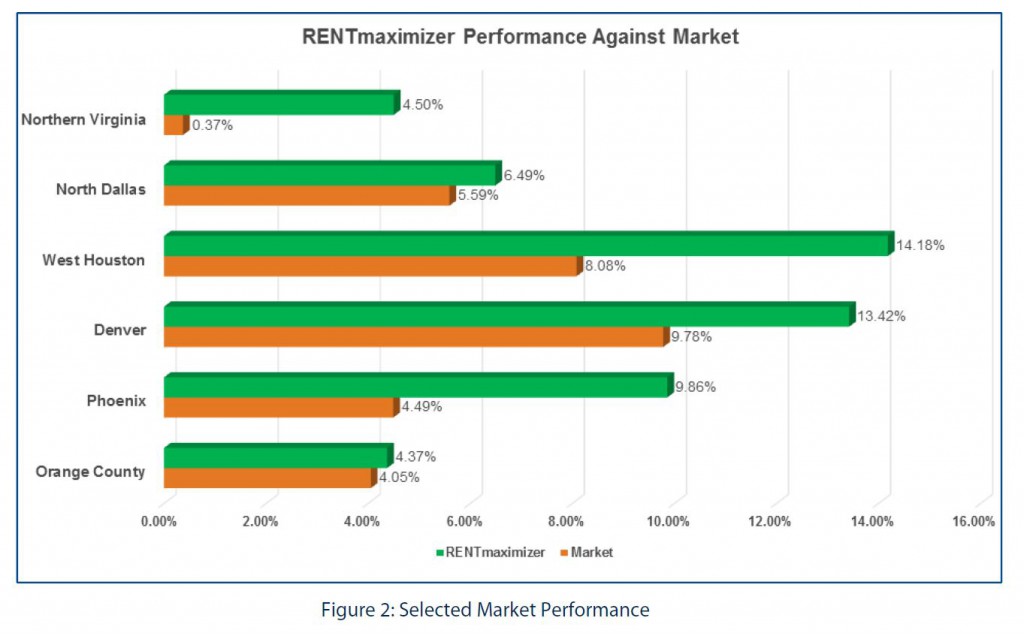 Figure 2 above shows results for some markets in which a significant number of properties use Yardi RENTmaximizer. Denver, one of the top five "hottest" markets in 2013, saw a market rental growth of 9.8%, while the RENTmaximizer properties grew by almost 13.5%. RENTmaximizer customers exceeded the market by almost 3.7%. Similarly, the Houston market grew by 8% overall, while RENTmaximizer properties produced 14%—a 6% advantage for RENTmaximizer customers.
Another extreme example, the market in Orange County, California saw 4.05% growth while RENTmaximizer properties grew by 4.37%. Orange County rental rates are very high compared to other markets, and many more properties in this market use other revenue management systems. Even this small increase above market using RENTmaximizer creates a significant income difference.
Conclusion
Yardi RENTmaximizer has seen exponential adoption growth since it was introduced in 2011 and continues to prove itself in the market. The system's intuitive approach and transparent reporting make it easy for property teams to understand and accept its daily pricing methodology.
The August 2014 release of RENTmaximizer enables customers to compare the performance of each of their properties to its market, submarket, and submarket-equivalent properties. This reporting feature has become very popular with our customers, and we plan to expand capabilities in this area in future releases of RENTmaximizer.
We now have significant statistical proof that RENTmaximizer produces consistently better results than the market, and our customers tell us that we provide the best support in the industry. Our service team of experienced revenue managers is included with the RENTmaximizer product. Yardi RENTmaximizer delivers better results, better service, and complete visibility into the "health" of your property performance and how it drives your pricing results.
Copyright Notice
This document is protected by copyright, trademark, and other intellectual property laws. Use of this document is subject to the terms and conditions of an authorized Yardi Systems, Inc. software license or other agreement including, but not limited to, restrictions on its use, copying, disclosure, distribution, and decompilation. No part of this document may be disclosed or reproduced in any form by any means without the prior written authorization of Yardi Systems, Inc. This document contains proprietary information about software processes, algorithms, and data models which are confidential and constitute trade secrets. This document is intended solely for the specific purpose for which it was made available and not for any other purpose. Yardi® and Yardi Voyager® are registered trademarks of Yardi Systems, Inc.