Yardi RENTmaximizer Comparables
By Yardi Blog Staff on Mar 1, 2015 in Uncategorized
One feature incl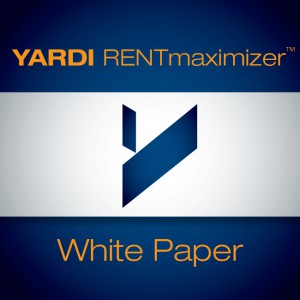 uded with the August 2014 release of Yardi RENTmaximizer™ is the ability to compare property performance against market, submarket, and submarket-equivalent properties.
Pierce-Eislen and Yardi Matrix
In the summer of 2013, Yardi® acquired Pierce-Eislen, the industry's most comprehensive apartment market intelligence analysis system. As we continue integrating Pierce-Eislen's capabilities into the Yardi product suite, Pierce-Eislen products and services are being rebranded as Yardi Matrix™. "Blind shopping" is one way Yardi Matrix collects data to determine property values. Inquiring as prospects, analysts currently call on 9.4+ million units in 77 markets three times per year. This includes all properties over 50 units in specific markets, and we are expanding this to include 100 markets, covering 97% of the United States population. We include this collection of actual rent information at the unit-type level as part of the standard Yardi RENTmaximizer reporting system.
Performance Reports
A property performance benchmark report incorporates data from Yardi RENTmaximizer and the Yardi Voyager® financial database. Charts include rental income, concessions and write-offs, and occupancy and reference rent. The rental rate shows actual Pierce-Eislen data surveyed for your property, the market, submarket, and submarket-equivalent properties during the same period.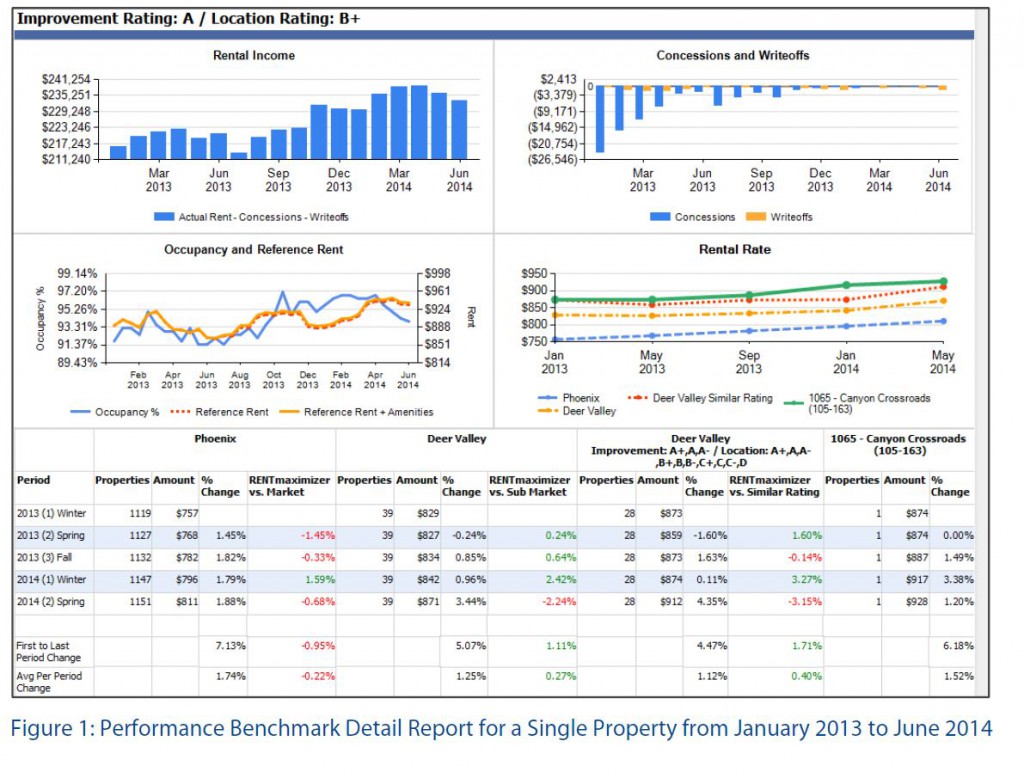 The table shows percentage change by period and overall, as specified in your input parameters for the report. It also shows the property's percentage change comparison to the market, submarket, and submarket-equivalent properties.
This report helps you to track key revenue factors. You can use this information to modify Yardi RENTmaximizer parameters to conform to the strategy and goals driving the property's operations. You can monitor your actual rental income, concessions, and write-offs against percentage occupancy, reference rent as determined by Yardi RENTmaximizer, and rent including amenities. Additionally, you can compare the property's rent levels against the market, submarket, and submarket-equivalent properties.
Selecting Equivalent Properties
Pierce-Eislen data enables Yardi Matrix to compare equivalent properties and/or locations. In the heading of the performance benchmark detail report, we provide the improvement rating and location rating for your property. The report allows you to select properties with similar property and location ratings via drop-down menus. You can select properties that are highly comparable to your property or properties with ratings are above and/or below those of your property.
The Pierce-Eislen improvement and location rating system is a patented methodology that assists in evaluating properties consistently with respect to their current improvement status and location. The details behind this rating system are outlined in another document. Please contact your Yardi RENTmaximizer salesperson for a copy of that document.
Copyright Notice
This document is protected by copyright, trademark, and other intellectual property laws. Use of this document is subject to the terms and conditions of an authorized Yardi Systems, Inc. software license or other agreement including, but not limited to, restrictions on its use, copying, disclosure, distribution, and decompilation. No part of this document may be disclosed or reproduced in any form by any means without the prior written authorization of Yardi Systems, Inc. This document contains proprietary information about software processes, algorithms, and data models which are confidential and constitute trade secrets. This document is intended solely for the specific purpose for which it was made available and not for any other purpose. Yardi® and Yardi Voyager® are registered trademarks of Yardi Systems, Inc.