Yardi RENTmaximizer
By Yardi Blog Staff on Mar 1, 2015 in Uncategorized
Traditionally, apartments are priced by unit type; if applicable, pricing for amenities is then added or subtracted from this base amount. In order to incentivize customers to sign a lease, landlords have traditionally sweetened the deal by offering some form of concession. Yardi RENTmaximizer drives a change from that traditional pricing approach to a model that focuses on allowing the customers to pick their price, yet benefits the property by recovering a number of cost factors.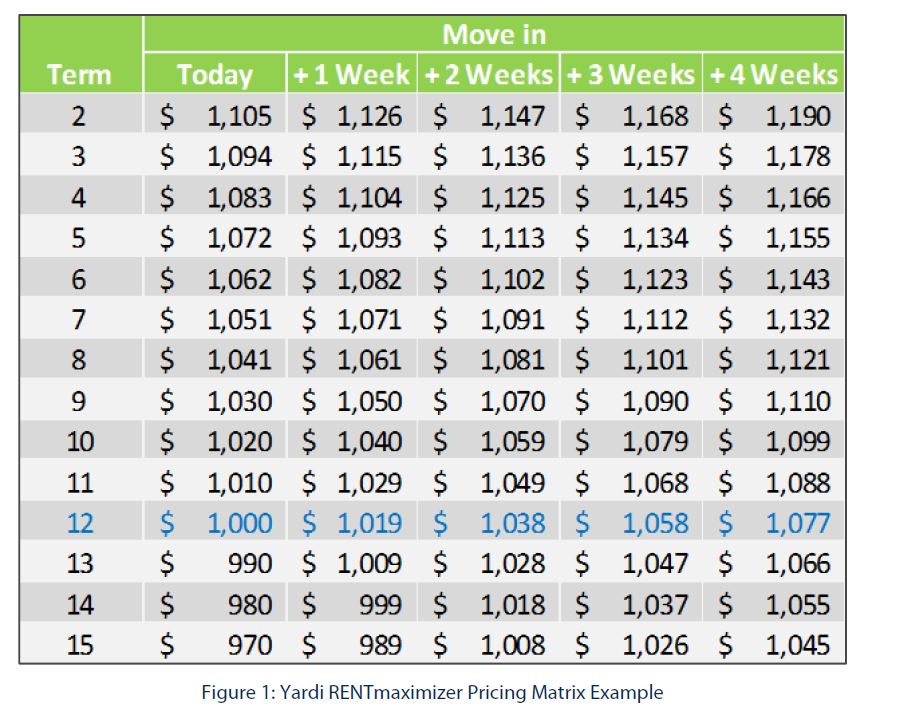 The above is a sample of the Yardi RENTmaximizer pricing matrix, which is generated and analyzed at the floor plan level. The number of columns (lease start delay in weeks) and rows (length of lease in months) can be specified for each floor plan as part of the system's configuration parameters.
Customer Benefits
Shifting from a pricing model based on price and concessions to a pricing matrix puts customers back in control of making the ultimate decision and determining how much they want to pay (as opposed to the leasing consultant telling them how much it is). Our clients find it more friendly and engaging to respond to a customer asking how much an apartment costs by engaging in conversation: "Well, it depends on when you would like to move in and how long you plan to stay."
This puts the pricing engagement discussion back on the customer and shifts the conversation to the customer's needs instead of negotiating how much the leasing agent is willing to give away to get the business. Customers today are much more sophisticated and are used to a "menu" approach which allows them to customize their purc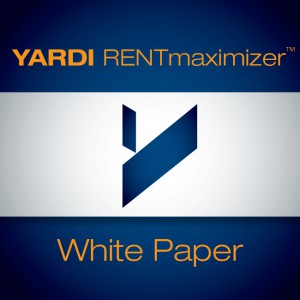 hases. That approach can now be applied to renting an apartment. In addition to shifting the price decision back to the customer, this method also allows us to recover many costs that we currently find difficult to discuss.
Property Benefits
Yardi RENTmaximizer performs a trend analysis and passes the results (property "health" with respect to traffic, availability, leases written, and overall market conditions) through the business rules component. This adjusts the trending price recommendation established by the pricing rules engine to that property's operating philosophy. Once passed through the business rules, the system computes the change in the base rent level for that floor plan.
After computing rent levels based on traffic, lease conversion rate, availability, and market forces, Yardi RENTmaximizer then fleshes out the pricing matrix to optimize the recovery of costs associated with leasing the apartment. As a result, the program delivers prices based on the lease start date and term. To configure a base price, assume that we use a lease start date of today and a base term of 12 months. In the matrix on the previous page, the base rent is $1,000 per month. If the customer chooses to delay the lease start date by a week, that unit sits vacant for the week. The pricing matrix allows you to capture that vacancy loss and distribute it over the length of the lease. Costs apply at the other end of the lease term as well. When a lease ends and a renter moves out, you incur costs to turn the unit: clean carpets, touch up paint, etc. Yardi RENTmaximizer allocates these costs across the lease term.
Another aspect of cost recovery lies in the fact that knowing the start date and length of a lease means knowing the lease's end date as well. Yardi RENTmaximizer examines the "vacancy curve" to determine approximately how long it takes to fill that unit type in any given month. For those months where the time to fill the unit type exceeds the average length of time for the year, an additional amount is allocated to alleviate vacancy loss anticipated in the hard-to-fill months. This typically results in the customer picking the least costly rent levels and causes automatic leveling of the number of leases expiring in each month. Yardi RENTmaximizer includes numerous settings and parameters to adjust the amount and number of leases expiring in any month.
Copyright Notice
This document is protected by copyright, trademark, and other intellectual property laws. Use of this document is subject to the terms and conditions of an authorized Yardi Systems, Inc. software license or other agreement including, but not limited to, restrictions on its use, copying, disclosure, distribution, and decompilation. No part of this document may be disclosed or reproduced in any form by any means without the prior written authorization of Yardi Systems, Inc. This document contains proprietary information about software processes, algorithms, and data models which are confidential and constitute trade secrets. This document is intended solely for the specific purpose for which it was made available and not for any other purpose. Yardi® and Yardi Voyager® are registered trademarks of Yardi Systems, Inc.