3 Tips for Scaling
By Erica Rascón on Dec 27, 2019 in Technology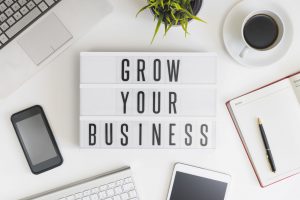 How do you grow from a small team to a multi-branch business? While the path is different for each organization, there are some factors that prove beneficial time and time again—and they all involved technology! These three tips can guide you on how to scale your property management business.
Getting Started and Prompting Growth
Growing your property management business begins with putting adequate resources in place beginning with a property management solution. Check out these questions to ask when selecting property management software.
You may begin with simple property management software for small portfolios. Such a tool will give you the basic features that you need to get started and promote growth:
Online leasing with electronic signatures
Internet listing services for your property
Professional website creation and easy website management tools
Email and text communication with prospects and tenants
Online rent payments via ACH and credit cards
Basic invoice services
Online maintenance requests and progress updates
Aim for software that offers all those services under a single solution so that you won't have to invest time and money in additional programs later. Juggling multiple programs often leads to integration issues, lost data, and excessive staff training.
When Is It Time to Level Up?
As you grow, there will inevitably come a time when your current methods of operation are no longer sufficient. You may find that you don't have the capacity to accept new prospects or maintain high resident satisfaction ratings. Your staff may report that workflows need a makeover for various reasons. The smoking gun is when you experience low margins because your pricing strategies are no longer adequate.
You can't grow without making changes.
Consider advancing to a more robust property management and accounting solution for large, complex portfolios. A single database should allow you to manage operations, finance, leasing and maintenance so that you aren't switching between systems. Integration with marketing and utilities software makes it easier to keep all pertinent data in one place without redundant data entry or incongruent systems.
It may also be time to optimize your revenue strategy. Sure, an average of more than 6 percent net rental income growth sounds great. Beating market performance by more than 2 percent also sounds wonderful. Seek intelligent revenue management software that will do even more than that by focusing on operational components like rental income, concessions, occupancy and rental rates.
Ode to Benchmarking
When you have the above factors in place, you can promote further growth by minimizing losses in more subtle areas. You may be missing out on revenue due to inefficiencies in your buildings or workplace operations.
You can't manage what you don't measure. Data gives you personalized insights into your company's performance. It allows you to track changes in performance as well as the factors that influence those changes.
The data that you gather and analyze will vary based on your focus. Perhaps you want to track sales team performance to identify where in the sales process you tend to lose prospects. You may track utility data to detect leaks and recover losses. Each area of focus has software that can help you glean information, analyze it, and then strategize intelligently.